Moon Trees LIVE 2: Virtual Learning Experience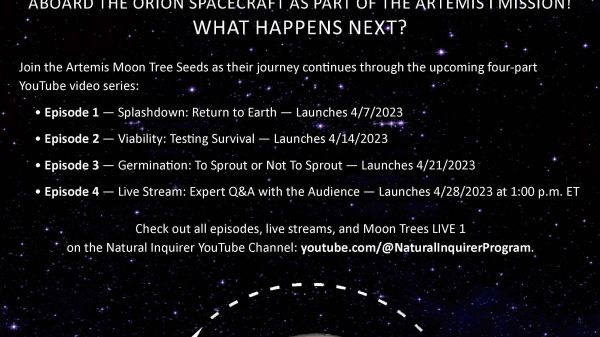 The US Forest Service Conservation Education (CE), and the Natural Inquirer (NI) are collaborating with NASA on an exciting program called Moon Trees—trees that will be grown from seeds which orbited the Moon on the Artemis I mission!
Once germinated and grown by the Forest Service, these now seedlings will be distributed to formal and informal education organizations, government agencies, and non-profit organizations through a competitive application process. Additionally, we are creating a variety of STEM and citizen science educational opportunities that formal and informal educators can use to engage individuals of all ages in learning about Moon Trees and inspire career exploration.
Now that the seeds are back from their space flight, Moon Trees LIVE 2, a virtual learning program, will explore how the seeds returned to earth and what happens next to test the seeds for viability and grow them in nurseries across the U.S. Learn more and get involved.