Micro Air Vehicles Inspired by Flying Animals Like Bats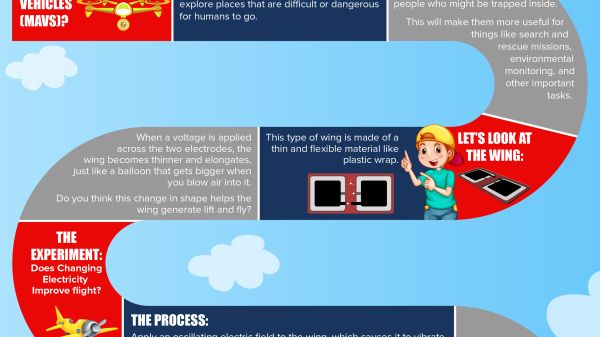 "Aerodynamic Characterization of Wing Membrane with Adaptive Compliance" by Oscar M. Curet, Alex Carrere Rye Waldman, and Kenneth S. Breuera
In this classroom learning opportunity, students will explore the fascinating world of membrane wings with variable compliance and their potential to enhance the maneuverability and performance of micro air vehicles, as well as their relevance to flying animals like bats. The activity will involve understanding the mechanics and aerodynamics of these wings through a hands-on experiment.
Membrane wings with variable compliance can greatly enhance micro air vehicle performance and are likely used by flying animals, like bats, for aerodynamic control. 
Activity:
Introduction: Share the infographic attached and discus the importance of wings in flying and how they come in various shapes and sizes. Explain that flexibility can affect how well something can fly.

Materials: Playdough, straws, and paper.

Wing Design: Instruct the children to make two paper airplane wings, one with a straw as a rigid support and the other with Playdough as a flexible support. Encourage them to shape the wings similarly.

Flight Test: Have the children throw both paper airplanes and observe how they fly. Discuss the differences they notice between the two, such as how far they go or how stable they are.

Experiment: Now, ask the children to reshape the flexible Playdough wing to make it even more flexible. Have them test it again and compare the new flight performance with the previous one.

Discussion: Gather the students to discuss their findings. Ask them what they observed and why they think more flexible wings might be better for certain types of flights.