Teach Climate Network Workshop: Overcoming Barriers to Teaching about Climate Change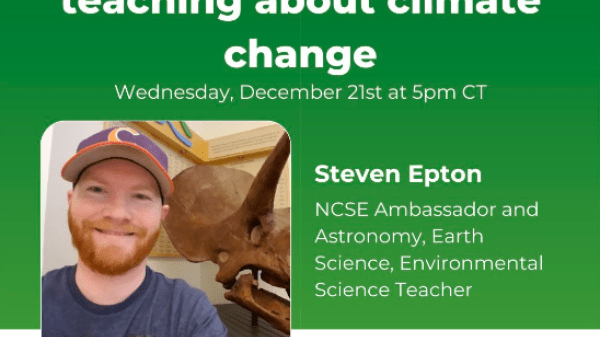 Are you facing obstacles in teaching climate change in your classroom or community? Join NCSE Ambassador and middle school science educator Andy Epton to hear about tips and strategies for overcoming barriers to teaching about climate change.
We understand that some of these workshops do not work for educator's schedules, so all registrants will receive a recording and additional resources to their e-mail within 1 week of the event.
We are striving to make our events more welcoming to all, with specific goals about racial equity and inclusivity. Your answers during registration will help us to know how we are doing.
The workshop will be from 5:00–6:00pm CT.
This event open to all! Hosted by Climate Generation's Teach Climate Network, a program providing K–12 and nonformal educators access to resources, professional development, inspiration, and community networking to teach climate change. Learn more about the Network and sign up to join.