Putting Planetary Well-Being at the Core: A Call to Turn Our Conscience into Action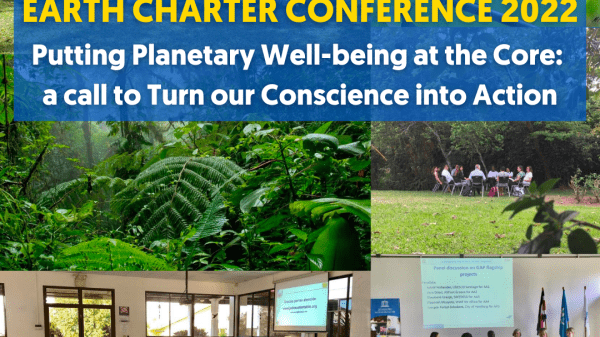 Earth Charter Conference
December 1–2, 2022
This dynamic event will bring together Earth Charter supporters from all over the world to stimulate discussion and collaboration. We will open ourselves up to two full days of learning, making new connections, and sharing and building new perspectives for turning conscience into action for a thriving Earth. The Earth Charter Center for Education, located on the University for Peace campus, is a magical setting for our gathering amid a tropical forest near San Jose, Costa Rica. Your presence will contribute to this process and elevate the depth of our conversations.
This two-day event with keynote presentations, inspirational talks, and dialogues, as well as networking and nature immersion activities limited to 100 participants. Plenary sessions in the mornings and breakout sessions in the afternoons will address the following questions:
What is Planetary Well-being? What are our contributions to that?
What legacy of Planetary Well-being do we want to leave for future generations?
Why should our decisions and actions be oriented towards contributing to Planetary Well-being? What are the implications of that to education?
What are examples of decisions and policies generated by countries (over the last 30 years) that contributed to Planetary Well-being? What triggered those actions?
How can we evaluate our contributions to Planetary Well-being? How can the Earth Charter be used as a roadmap?