Natural History Education DemoCamp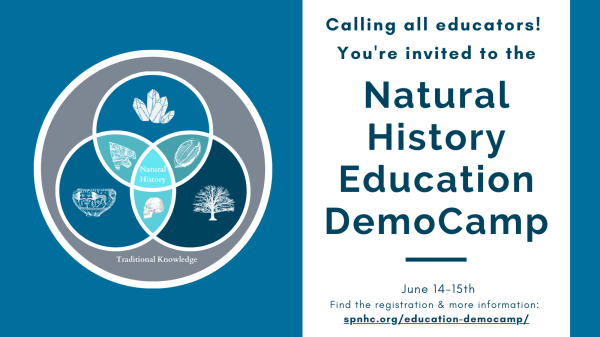 Calling all Educators Looking for Resources
(formal and informal, K–12, College)
Save the date! The next DemoCamp will take place June 14–15 (virtually)
General Registration is Now Open!
Presenter Information
Presenter Registration is now open!
We suggest preparing your materials and responses in advance before filling out the form. See here for more details and an example: https://bit.ly/2023_PresenterNotes
More Details 
Do you want to discover new ways to connect your students to nature and still meet learning objectives? (Including K–12 standards or Vision & Change Recommendations). Do you work with natural history specimens and have a resource you would like to share, or get feedback from other educators on?
The Natural History Education (NHE) DemoCamp is designed to provide materials and resources to teachers, educators, and faculty looking for easy-to-adopt educational materials that engage students with the natural world. The NHE DemoCamp format allows educators access to open education resources and provides opportunities to discuss these resources with the teachers and educators who developed the materials. For the presenters, the NHE DemoCamp provides a platform to share your resources and materials and creates a place to exchange ideas and receive feedback from your peers.
With the goal of making this accessible, this will be an informal (but organized) series of small open sessions where presenters can talk about materials and participants can ask questions as needed. Materials will be available in advance and participants are free to attend as many or as few sessions as they see fit and their schedule allows.  A schedule with links to resources will be provided before the conference. Come and go as you please! Pick and choose presentations that are of interest to you.
This event is hosted by the Society for the Preservation of Natural History Collections (SPNHC) Education Committee and Biodiversity Literacy in Undergraduate Education (BLUE).