California K-12 Recycling Challenge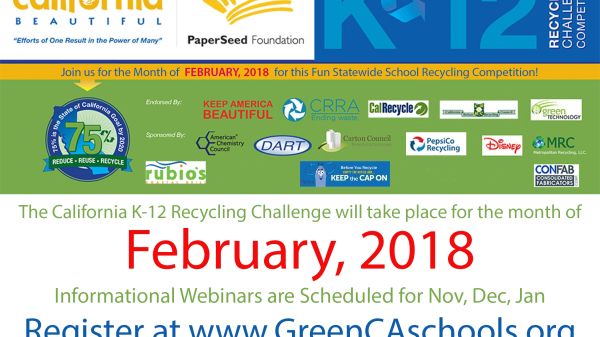 The 2018 California K-12 Recycling Challenge is just around the corner! This friendly competition generates enthusiasm for recycling, and teaches students to promote waste reduction activities.
A great opportunity to win cash prizes for your school- a total of $18,000 will be awarded between 54 winning schools!
Register today! http://greencaschools.org/
The California Recycling Challenge is a friendly competition with and a benchmarking tool for K-12 school recycling programs to promote waste reduction activities to their school location only. Over a one month period, schools report recycling and trash data which are then ranked according to who collects the largest amount of recyclables per capita, the largest amount of total recyclables.
With each week's reports and rankings, participating schools watch how their results fluctuate against other schools and use this to rally their school communities to reduce and recycle more.
The competition is conducted on a "Per Capita" basis to allow schools and districts of all sizes to participate. The program is intended to include the faculty, staff, students, and custodial staff.