Women Funders in Environmental Action Civics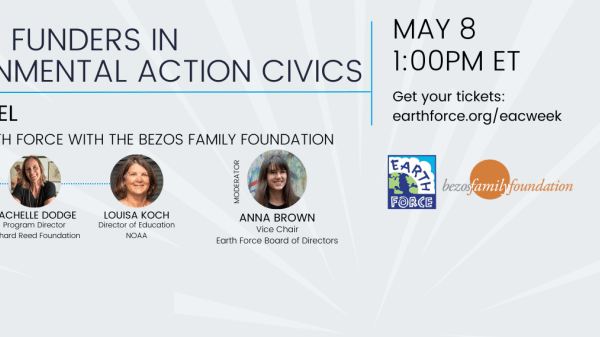 Join us May 8, 2023 at 1pm ET!
This dynamic panel will feature female philanthropy experts sharing their thoughts on the funding landscape of infusing civics into environmental education.
Register here: https://streamyard.com/watch/63zjbxYGNgkr
Featuring:
Marilyn López, Program Officer at the Bezos Family Foundation
Louisa Koch, Director of Education at NOAA
Rachelle Dodge, Program Director at the Richard Reed Foundation
Moderated by Anna Brown, Vice Chair of Earth Force's Board of Directors.
Don't miss learning from the women who are propelling Environmental Action Civics forward! The event will run from 1-2pm EST (10-11am PST)
Part of Environmental Action Civics Week - May 8-12, 2023 Visit earthforce.org/eacweek to learn more!