Podcasts That Engage and Educate: Advice from Three Conservation Pros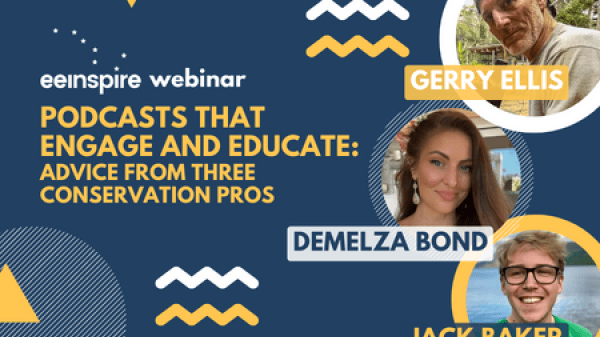 Wednesday, December 14, 2022 / 1:00–2:00 ET - RECORDED
Hear from three accomplished conservationists and communications experts: Gerry Ellis, Demelza Bond, and Jack Baker. 
In this webinar you will learn:
1) how a podcast can help educate people about important issues and support your work
2) how and why Gerry and Jack started a podcast, and a quick review of a rapidly changing podcast landscape
3) their lessons learned, or DO's and DON'T's learned the hard way
4) their best advice for anyone wanting to launch a podcast
All eeWEBINARS are live captioned.
Speakers
Gerry Ellis
Gerry Ellis is co-creator and host of Talking Apes. Through his three decades of travels around the planet to document apes, he has met with many of the extraordinary people working to ensure apes survive—many of those becoming a guest on Talking Apes. Gerry is also the creator and cameraman behind our sister project Apes Like Us on YouTube.
Jack Baker 
EE 30 Under 30, Class of 2022
Jack is the creator of Pangolin: The Conservation Podcast, a show that celebrates the stories of under-appreciated species and amplifies the voices of underrepresented groups. He is a passionate speaker and conservation educator, who works for both the Royal Zoological Society of Scotland and the Royal Botanic Garden Edinburgh. Having previously completed an MSc in Conservation Studies from the University of St. Andrews, Jack recently re-entered academia and is a PhD student at the University of Edinburgh where he is studying the impact of living collections on the climate and biodiversity crises.
Demelza Bond
Demelza Bond is Assistant Producer at Talking Apes. She has over a decade of experience working with and advocating on behalf of primates as a researcher, fundraiser, writer, and caregiver. She lives in Spain where she was recently caring for rescued chimps. Demelza is also the Media and Communications Manager at Apes Like Us.
eeINSPIRE: Sparking Innovation in Environmental Education
We are pleased to continue eeINSPIRE, NAAEE's webinar series presented in partnership with the US Forest Service. This series is designed to bring new ideas and thinking to USFS conservation educators, but is open to all who want to sign up! 
Upcoming eeINSPIRE Webinars
Future topics will include: increasing civic engagement through education and service-learning, becoming a natural and effective storyteller, citizen science in education, building a diverse and inclusive field, and more. 
We look forward to seeing you online, and stay tuned for updates on upcoming webinars in the series!