Outdoor Play-Based Learning: A Learning & Unlearning Series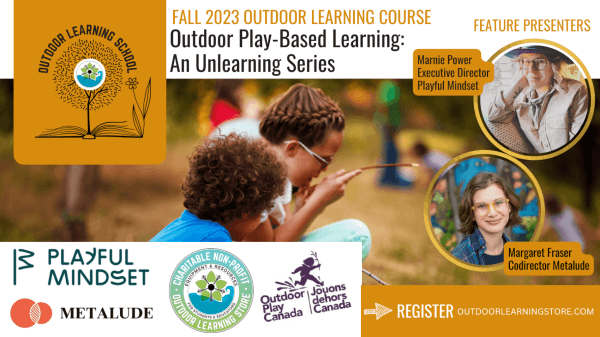 In the last ten years, we have seen a groundswell in outdoor and nature-based preschools and an abundance of outdoor play-based learning programs situated on or near school grounds across North America. The possibilities for play are endless, yet the challenges many educators face are equal in measure. It is important to think through our intentions within outdoor programs and understand the structures and engrained ways of thinking that have made them so necessary.
We believe that when children learn through outdoor play, there are infinite opportunities to learn and unlearn, in other words, to grow and to let go. Likewise, as educators adopt a playful mindset, there are endless opportunities to learn and unlearn pedagogical and systemic practices that no longer serve our aim for a just world.
Our shared wonderings: What is possible in outdoor play-based learning? How can we keep ourselves from reproducing our indoor challenges outdoors? What is the role of the educator in play-based learning? What practices invite self-agency and freedom? What do interactions between educator and child look like in outdoor play-based learning? Lastly, how do we explore outdoor play-based learning from a reflective, anti-oppressive, liberatory lens?
This 6-part virtual professional development series invites educators and play practitioners to wonder and uncover our assumptions and expectations for play. We will work towards collective transformation through outdoor play-based learning by weaving together research, practical experience, individual reflection and insights for a playful future.
Dates: October 16–November 13, 2023