Online course offering: Behavior change strategies and outreach plans that motivate action & change for the environment.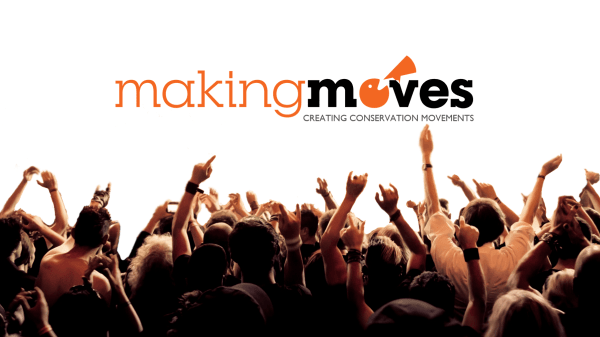 "Making Moves: Creating Conservation Movements" is a live online course that helps practitioners design communication strategies and plans to achieve behavior change.
Through weekly lessons and worksheets, we clarify behavior goals and audiences, dive into the psychology behind why people will or won't take action, and identify practical strategies for motivating change.
In this course, you'll learn how to:
Prioritize behaviors to promote that will achieve your conservation goal.
Identify primary audiences for communication and outreach efforts.
Explore which tangible and psychological barriers exist for your audiences.
Select message frames and creative approaches that motivate audiences to take action.
Choose audience- and budget-appropriate channels of communication and outreach.
Bring everything together into a comprehensive strategy and implementation plan.
This course is for you, if...
You've ever felt frustrated that your current outreach efforts weren't producing the desired results: "they're still doing the things we're telling them not to do?!?!"
You're trying to inspire new behaviors in your community or get people to take action for a cause, but aren't sure where to start.
You've felt like your messages were only reaching the "already converted" and you need more people to get on board.
You've made great progress but need to keep the momentum going and aren't sure how to reach the next level.
You want to build your own capacity as a behavior change communicator.
If any part of your work is asking people to get more engaged in conservation, sustainability or environment related activities, then this course will equip you with the skills, insights and processes needed to mobilize large and small communities to take action.
Yeah, but will it be use-able???
This course is designed to be highly practical. I provide you with templates, tools and worksheets to use with your own projects right away.
Participants are asked to identify a single project and behavior change goal at the start that will serve as the consistent pilot-run throughout the lessons and worksheets. 
In addition to your own chosen project, two case study examples will be featured throughout - one that is focused on a small community-based change and another that explores larger, national & global change movements.
These processes and frameworks are ones you can use over & over again throughout your career.
Price of the course
The cost of the course is USD $635 per participant. 
Discounted rates are available
There are a limited number of spots available at discounted rates. These are reserved for individuals working in small non-profits or in resource-limited areas, students, and those who are self-funded and need financial support to join.
Applications for discounted rates are due by August 29th - apply here: https://form.typeform.com/to/M2LquDDl.
Included in the program
Participants in the course receive all the following:
8 weekly live sessions (75 minutes each) comprised of 6 instructional lessons with activities, interactions and time for Q&A and 2 "jam sessions" for group discussion and workshopping of concepts.

Lessons are delivered live at two times to accommodate time zones: 8am EDT & 12pm EDT.

Lifetime access to recordings (online and offline versions) to watch replays, or if a live lesson is missed.
Worksheets and instruction guides for you to use, keep and incorporate into your own programs.
Opportunity to have worksheets reviewed by me between lessons for suggestions and feedback, and to book half-hour working sessions.
Invitation to a private Facebook group of current and alumni course participants where additional questions can be asked and resources shared.
Certificates of completion once all worksheets have been completed and submitted.
Opportunity to meet and engage with other amazing conservationists working on similar issues through the alumni network.
Over 150 participants representing more than 30 countries have already taken the course & we'd love to have you join the 2021 cohort!