Environmental Action Civics: 2023 Educator Workshop
Earth Force's annual in-depth, community-building, deep dive into Environmental Action Civics. If you're looking for actionable PD that will send you into the 2023-2024 school year with ease and excitement, this is for you.
This workshop is for educators who work directly with students (in the classroom, outside of the classroom, in a club, at home, wherever!)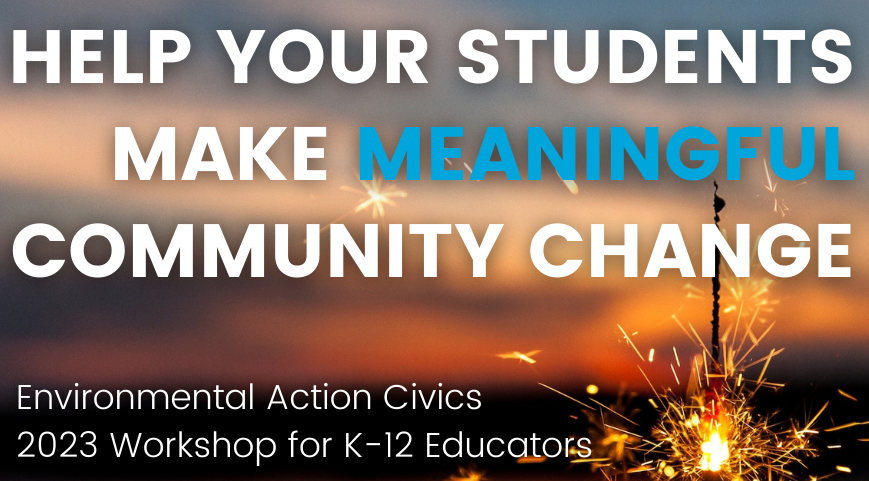 Put civic action into your program
Learn how to implement Environmental Action Civics to promote student-led civic action in various educational settings. 
Our six step process and resources start with students' lived experiences and offer concrete steps to involve community stakeholders, democratically decide on the issue and solution, and advocate for a policy or practice change. When students have these three experiences, research shows they will be more environmentally and civically motivated to take action in the future.
Walk away with an action plan
Bring your curriculum, standards, or scope and sequence and be ready to spend time in community! You'll collaborate with other educators from around the country.
After completing the workshop, you'll earn an Environmental Action Civics Educator Certificate and the Full Educator's Guide with accompanying student-facing resources that are fully customizable.
A Year-Long Cohort
You are committed and so are we. You'll get a full year of unlimited coaching from the Earth Force team, virtual quarterly meetups to problem solve and support each other, and a spring showcase during Environmental Action Civics Week.