Climate Change Education: What Are We Hearing from Educators and Administrators?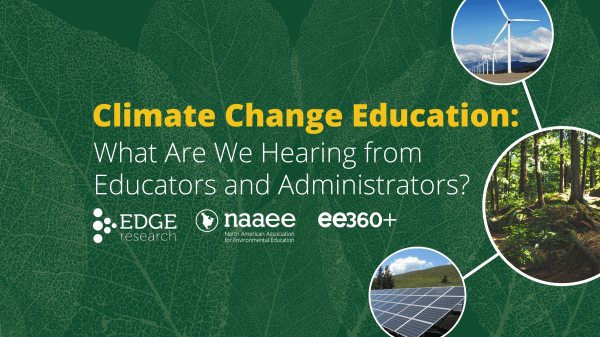 Join us for an overview of the results of a national survey of U.S. K–12 teachers and administrators about climate change and the implications for our collective work as environmental educators. NAAEE partnered with Edge Research to conduct this survey, and the findings suggest that we need to do much more to help support teachers and administrators and build confidence in addressing the issue of our times! We're excited to have Lisa Dropkin and Pam Loeb, principals from Edge Research, and Sarah Bodor, director of policy and affiliate relations from NAAEE, to review the highlights of what we found. 
For more information on NAAEE's resources, visit: Climate Change Education
Read the report: The State of Climate Change Education: Findings from a National Survey of Educators
Speakers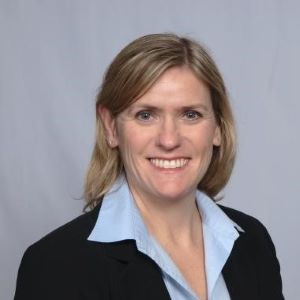 Sarah Bodor, NAAEE's Director of Policy & Affiliate Relations
Sarah Bodor currently serves as Director of Policy and Affiliate Relations for the North American Association of Environmental Education (NAAEE). In her role, she oversees NAAEE's advocacy strategy and coordination of a network of 54 state, regional, and provincial Affiliate organizations. She monitors local, state, and federal policies that advance environmental and climate change education. Prior to joining NAAEE, Sarah worked for the Chesapeake Bay Foundation, where she held a number of program management and leadership positions. She worked closely with state education agencies in Maryland, Pennsylvania, and Virginia to develop and pilot standards-based curricula and provide teacher professional development. She previously served on the Chesapeake Bay Program's Education Workgroup and Maryland's Project Green Classrooms Steering Committee.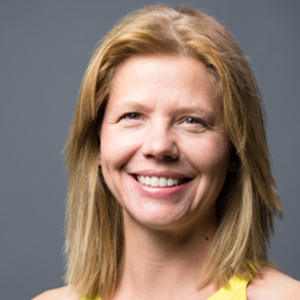 Lisa Dropkin, Edge Research
As a co-lead of Edge's non-profit practice, Lisa's public interest and social change work focuses on conservation and sustainability, patient advocacy, and includes supporting the firm's portfolio on civil rights and inclusion. Over the years she has conducted research for marquee brands such as The Nature Conservancy, Ocean Conservancy, Southern Poverty Law Center, and The David and Lucile Packard Foundation to name a few. In her non-profit engagements, support for science, leveraging science in public policy debates, and making science more accessible to traditionally excluded groups have been a passion. In the past two years, she has completed projects for the Association of Science and Technology Centers and the Alan Alda Center for Communicating Science. Prior to joining Edge Research, she served as research director for SeaWeb during its start-up as an innovative non-profit for ocean conservation communication. During that time, she conducted foundational research to support the creation of the sustainable seafood movement. Previously she spent seven years at The Mellman Group, a national public opinion research and campaign strategy firm.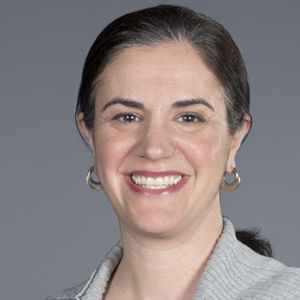 Pam Loeb, Edge Research
As a Principal at Edge Research, Pam brings over 30 years of marketing research experience working with marquee corporations, nonprofits, and universities on their branding, messaging, advertising, and new product development. Pam's passion is education, and she co-leads Edge's Education practice which encompasses early childhood, K–12 curriculum products, and education policy; higher education marketing, branding, and program development; and career, technical, and adult learning products. Pam has a passion for social-emotional learning and equity in education. She regularly consults for Aspen Institute, Learning Heroes, Pearson, National PTA, Teaching Strategies, and the Wallace Foundation and is constantly in the field talking to students, parents, adult learners, alumni, faculty, counselors, administrators, employers, policymakers, and community leaders as they navigate the rapidly changing education landscape.
This webinar is brought to you by ee360+.
ee360+: Building a Stronger and More Inclusive Movement Through Collective Impact
An ambitious multi-year initiative, the ee360+ Leadership and Training Collaborative connects, trains, and promotes innovative leaders dedicated to using the power of education to create a more just and sustainable future for everyone, everywhere. Led by NAAEE, ee360+ is made possible through funding and support from U.S. EPA and twenty-seven partner organizations representing universities and nonprofits across the country, and five federal agencies. Through this partnership, ee360+ brings together more than five decades of expertise to grow, strengthen, and diversify the environmental education field. Visit https://naaee.org/programs/ee360 to learn more.