2023 Virtual Marine Naturalist Teachers' Program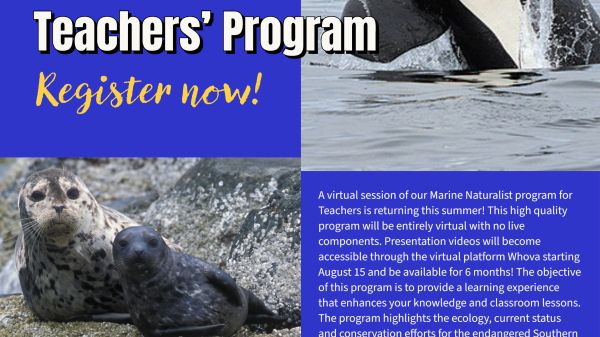 This high-quality program will be entirely virtual with no live components. Presentation videos will become accessible through the virtual platform Whova starting August 15 and be available for 6 months!
This program aims to provide a learning experience that enhances your knowledge and classroom lessons. The program highlights the ecology, current status, and conservation efforts for the endangered Southern Resident killer whales and other local marine species and the Salish Sea. The course includes presentations on cetaceans, other marine mammals, birds, invertebrates, geology, marine conservation, and more. Faculty includes professionals, experts, and researchers.
Thanks to a grant through NOAA, this program is at no cost to qualified teachers* to participate! Our gift to you for the great work you do! Space is limited to the first 50, so don't wait to reserve your spot!
*To qualify, participants must be current K–12 Classroom Teachers with a School Affiliation (Public, Private, or Home School).