2020 Professional Development Seminar Series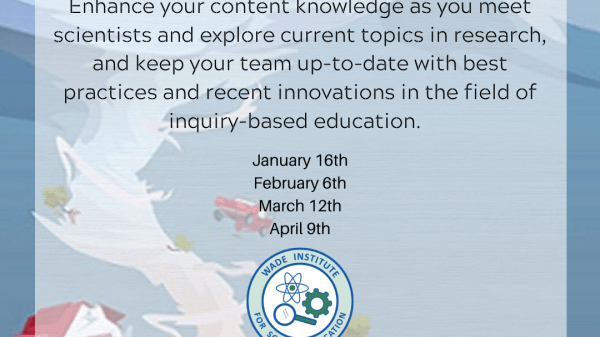 Explore authentic research with scientists during morning sessions, and strengthen your skills by engaging in hands-on, minds-on activities in the afternoon. Seminars help you keep your team up-to-date with best practices and recent innovations in the field of inquiry-based education. 
While the series is designed for informal educators, classroom teachers, science coordinators and school administrators are welcome to attend.
Featured Seminar: Thursday, April 9th
In this two-part seminar, learn how meteorologists use data to predict the weather and how to assess phenomena for use in program investigations. The morning session, "Weather-Wise, Not Otherwise," will be led by presenter Rob Gilman, Meteorologist at 95.9 WATD-FM and Co-owner at Precision Weather Forecasting, Inc. The afternoon session, "Phenomena Are Not Always Phenomenal: The Hows and Whys of Engaging Students in Phenomena-Based Instruction," will be led by presenter Peter McLaren, Executive Director at Next Gen Education, LLC.
Series Dates: January 16th, February 6th, March 12th and April 9th (9:30 am – 3:30 pm)
Location: Higgins University Center, Clark University, Worcester, MA
Cost: $45/seminar; $125/3 seminars; $160/all 4 dates
PDPs: Certificates of completion are available after each seminar. PDP certificates are available for those participating in 2 or more seminar dates.