Seaweed Farming Brings Hope in the Face of Climate Change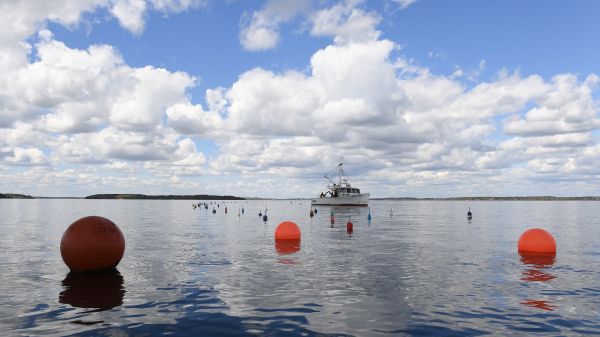 This post was written by Jesse Baines, Chief Marketing Officer at Atlantic Sea Farms.
Project partners include the Henry P. Kendall Foundation, Maine Sea Grant and New England Ocean Cluster.
The Gulf of Maine is warming faster than 97% of oceans worldwide, and in rural Maine, our coastal economy is singularly dependent on one wild species; lobster. But thanks to a new market for farmed seaweed in the United States, kelp farming is providing hope and improving coastal livelihoods in our communities, which are already feeling the effects of climate change.
As first movers in the seaweed space here in the U.S., almost everything we do at Atlantic Sea Farms is an entirely new innovation. From our robust food safety program to processing, nursery operations, and farmer support, each of our team members has become an expert in their field, and all recognize the 'why' of our business.
We are dedicated to expanding opportunities for coastal communities and to making a powerful and positive impact on the health of our customers and oceans by creating craveable and innovative products made from sustainably farmed sea greens.
In only three short years, our partner fisher farmers have grown to represent over 80% of the cultivated seaweed in the United States. Seaweed farming fits well into the Maine lobster industry's owner-operator business model, skill set, and culture of good ocean stewardship, all key factors that have put Maine ahead in this new industry in the U.S.
This work is helping to ensure that our coastal communities can continue to remain who we've always been—people who work on the water—and see seaweed farming as a tool for these communities, who are some of the most effected, to thrive in the face of climate change.
But there are certainly challenges. Kelp has a short shelf life out of the water, so Atlantic Sea Farms has developed a process for creating value added products and is growing an entirely new market for their partner farmers' harvests. And while generations of chefs and consumers have enjoyed seaweed in the U.S., many people are just now exploring the exciting flavor and health benefits of cooking with kelp.
To help educate and engage more people, Atlantic Sea Farms has activated a program entitled "Kelp to Kitchen" with the support of eeBLUE.
"Kelp to Kitchen" creates dynamic content and experiences that encourage consumers and chefs to include kelp in everyday dishes both at home and in the industrial kitchen. The Atlantic Sea Farms team works closely with campus dining programs to educate students and faculty through on-site, chef-led cooking demonstrations. They also work with registered dieticians to inform chefs and food service professionals about the health benefits of eating seaweed. Additionally, Atlantic Sea Farms works with recipe developers to create easy recipes that make Atlantic Sea Farms kelp products the not-so-secret ingredient in just about any meal.
Through education and collaboration, Atlantic Sea Farms continues to build the awareness and interest in domestically farmed seaweed through informed dialogue and reputable, science-based information. By partnering with trusted professionals to educate chefs, Atlantic Sea Farms products are reaching more people and driving an increase in positive impact for coastal communities as climate change makes landfall and wild fisheries are disrupted.
You don't hear a lot of stories of hope in the face of climate change. We're here to build resiliency, improve coastal livelihoods, and make delicious, nourishing products in the process. We hope you'll join us and #EATKELP!
Through the NOAA-NAAEE Collaborative Aquaculture Literacy mini-grants program, NAAEE supports partnerships sharing the mutual aquaculture literacy goals of the National Oceanic and Atmospheric Administration's (NOAA) Office of Education, National Marine Fisheries Service (NMFS), and National Sea Grant Office. These mini-grants provide informal learning institutions (e.g., aquariums), aquaculture industry (e.g., shellfish, finfish, seaweed farmers), and NOAA partners with support for the co-development of innovative educational experiences that explore aquaculture topics and support the engagement and advancement of public aquaculture literacy.