"PIVOOOOOT!": Flint Partners Persevere with Passion Through the Pandemic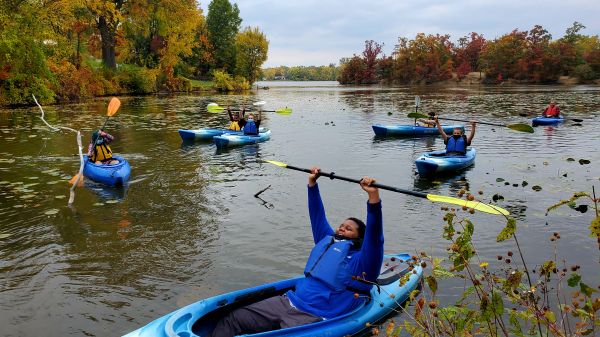 This post was written by Autumn Mitchell, Education Programs Manager at the Flint River Watershed Coalition. 
As our afterschool Watershed STEM pilot, Water and Wonder, comes to a close this month and I reflect on the process, I can only hear Ross Gellar (Friends) screaming in my ear: 
"PIVOOOT!!!" 
If you're not yet familiar with the iconic comedy clip, Ross seeks the help of his two friends, Rachel Green and Chandler Bing, to move his new couch up a winding stairwell. They try a few turns and many "PIVOT!"s, but the couch gets stuck in the stairwell and eventually is cut in half. 
This pandemic has provided many twists and turns within our pilot project, just as it has with everything else in our lives. While our original plans were seemingly cut in half, we were able to get our couch up the stairs in one piece. The obstacles we faced along the way have shown us that we have many dedicated friends and a great sketch to still provide fun and creative STEM learning experiences for students!
The Sketch: 
Step 1: Build a star-studded team. 
Step 2: Build an awesome watershed curriculum and training together. 
Steps 3-5: Test it out. Tweak. Repeat. 
The Friends: 
Flint River Watershed Coalition Youth Education Programs
Genesee Intermediate School District's Bridges to Success 21st Century Community Learning Centers program at three sites: Atherton Jr./Sr. High, Mt. Morris Consolidated Schools, and Genesee Jr. High
Genesee County Parks For-Mar Nature Center and Arboretum 
The University of Michigan - Flint's Great Lakes Stewardship Initiative hub, Discovering PLACE 
The "Pivots!": 
Our community prides itself on innovation, resilience, and a commitment to our children. Partners on this project truly epitomized this throughout the pandemic. We were all busier than we had ever been in our careers. Building a new program and developing new partnerships during this time took a lot of passion and perseverance from all involved. Luckily, we had this on our side! 
We each gave time and energy that none of us seemed to have to ensure our youth engaged in the best experiences possible. We redesigned the curriculum multiple times and in multiple modes to meet students where they were. We made last minute purchases and delivered these to our families' doorsteps to ensure access to high-quality STEM experiences. We met multiple times to discuss ever-changing scenarios and adjusted however needed. We pushed each other. We cheered each other on. And we did it! Just like we always do—for the kids! 
When people across the country hear "Flint, Michigan" they tend to think of a city plagued with tainted water. What our students discovered and later shared is exactly the opposite. Students tested the water, collected organisms, and surveyed their communities to collect and analyze data. They found a river that is much healthier than they originally thought, an underwater community of diverse living things, and an array of community partners who aim to elevate youth-voice in calls to action. Our students then created and distributed outreach materials and stenciled storm drains to spread watershed stewardship messages. They celebrated their successes by inviting their friends and families to kayak with them on the Flint River and shared the core message of their own experiences: The Flint River and its watershed is a healthy and vibrant community full of life and opportunity -- and we want to protect it!
At times, each of us felt pressed against the wall like Chandler in the Friends clip. We each had moments where we didn't think our respective programs could pivot any further and certainly felt that at times this new program wasn't the right fit for this moment in time. During these moments, our friends remained supportive, encouraging, and even provided some comic relief as we persevered. Our youth and our community remained everyone's focus and motivation and we were still able to spend a lot of time outdoors making friends, building community, and making lasting, positive connections to the Flint River and our waterways. 
The NOAA Office of Education and NAAEE partnered to increase environmental and science literacy among NOAA's partners and external networks. In this five-year partnership supported by the U.S. Department of Education, NOAA and NAAEE worked together to provide enriching after-school watershed-related STEM (science, technology, engineering, and mathematics) projects through NOAA-21st Century Community Learning Centers Watershed STEM Education Partnership grants. These grants supported programming for a total of 100 local 21st Century Community Learning Centers (21st CCLC) sites and their students. The 30 selected projects served 18 states, ranging from Alaska to Florida.