Leaf Pack Network Workshop at Puerto Rico Conference!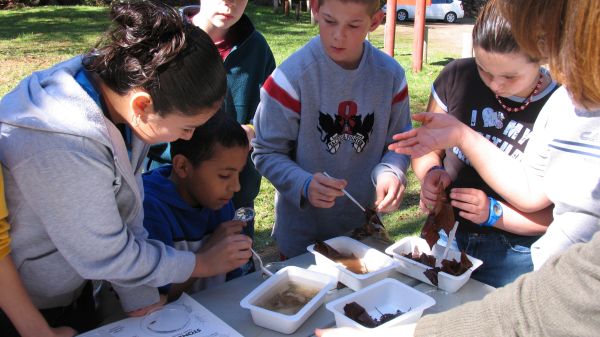 https://naaee.org/conference/workshops
Leaf Pack Network: An International Program for Macroinvertebrate Stream Bioassessment
Date and Time: 
Wednesday, October 18, 2017, 8:30am to 4:30pm
Location: 
San Juan's First Waterworks
Price: 
$90, includes lunch and transportation.
What can slimy leaves tell us about water quality? Observe aquatic macroinvertebrate specimens, conduct experiments, learn classification skills, and calculate a biotic index in this hands-on stream study workshop. Come learn about the Leaf Pack method for collecting macroinvertebrates and the international network. Materials available in Spanish. Takeaways and door prizes too!
HideRead More
For years, stream ecologists have used slimy clumps of leaves called leaf packs, to assess the health of a stream. More recently, these scientists collaborated with environmental educators to create the Leaf Pack Experiment Network® and through this unique technique, trained teachers and citizen volunteers on how to use leaf packs to study the life in—and assess the health of—their local streams. Leaf Pack promotes inquiry-based interdisciplinary watershed education and engages diverse audiences in conducting their own experiments, gathering relevant ecological data, exploring food webs, learning classification skills, using technology to share data, comparing data with those of other communities and applying that information to solve local watershed problems. Hundreds of teachers, watershed groups, naturecenters and citizens from all over the world—from New York City to the suburbs of Philadelphia to rural parts of Michigan as well as indigenous villages in Africa, Peru and Costa Rica—have used the Leaf Pack Experiment to identify the health of their local stream and to understand the story the stream is telling about how surrounding land use is affecting its waters. The Leaf Pack teacher's guide and student pages are available in Spanish and English. The Leaf Pack Network® is a rich, online resource even if an educator decides not to conduct the Leaf Pack Experiment, as participant data is free and available for all to view.
Educators will learn how their participants can create artificial stream substrate to study stream life and determine the health of the stream. All data gathered can then be posted on the Leaf Pack Network® web site (https://leafpacknetwork.org/(link is external)). The Network is emerging as a rich web-based resource that provides access to data gathered by participating schools and organizations across the world, as well as information on macroinvertebrates, watershed research, riparian ecology, and water resources. Participants in this session will also learn how to identify macroinvertebrates using online and print versions of identification resources and how to analyze macroinvertebrate data.
Presenters:
Tara Muenz – Assistant Director of Education, Stroud Water Research Center
Steve Kerlin – Director of Education, Stroud Water Research Center