Introducing NAAEE's New Affiliate Coordinator Bruce Young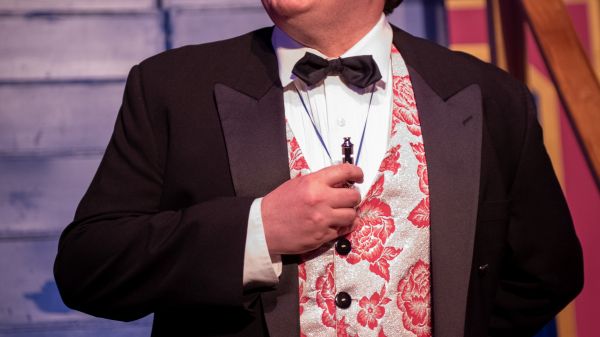 Many of you already know I recently joined the NAAEE team in the newly created Affiliate Network Coordinator role, but I wanted to share a bit about me and how I got here.
My path to becoming an environmental educator and joining the NAAEE team has been varied and rather circuitous. If you told me 10 years ago  that I would be working for an environmental education nonprofit, I would have looked at you like you were crazy. At that point I wanted to be the next William Ivy Long, the Tony Award Winning costume designer of shows like The Producers, Hairspray, and Cinderella. Though I do occasionally still design costumes, environmental education has become my driving passion, and here's the StorEE (see what I did there?). 
I came to environmental education after several years of working both as a freelance costume designer and in the hospitality field. In 2013, I decided to go back to school and get my Elementary Education Teaching License, following in the path of my grandmother, father, and several other family members. During a Science Methods course, North Carolina wildlife educator C.C. King came to my class to lead a full day Project WILD workshop, and I was hooked. The entire trajectory of my life changed in that one day. Immediately after this workshop I enrolled in the North Carolina Environmental Education Certification Program and began my training as an environmental educator.
Prior to starting my EE Certification I had never thought of environmental education as a career or, for that matter, was not at all aware that it was a career. The numerous workshops I attended opened my eyes to how varied and wide spread EE jobs are, and I knew I had to seek out work in this incredible field.
In 2016, after completing my teaching licensure, my husband and I moved to Charlottesville, Virginia for him to pursue his dream of being a theatre educator and I took a job as a classroom assistant and after school coordinator at a small independent school. Given my passion for environmental education, I was asked to develop and lead a weekly naturalist class for Kindergarten and First Grade students, while that summer I led a Young Naturalist Camp (which I repeated this past summer). 
My involvement with the Virginia NAAEE Affiliate, the Virginia Association for Environmental Education (VAEE) followed very quickly after moving to Charlottesville. That fall I attended my first VAEE Conference, and soon thereafter became chair of the Communications and Outreach committee. With the closing of the Virginia state Office of Environmental Education, I wanted to do as much as I could to keep progress moving on a number of initiatives including certification, the annual EE conference, and managing the VAEE website. In October 2017 I was elected to the VAEE Board of Directors.
My involvement and connection with other environmental educators in Virginia and North Carolina grew steadily over the next few years. In 2017, I became a member of the NAAEE Guidelines Trainers Bureau and in 2018 I attended my first NAAEE Conference in Spokane, WA. Attending the NAAEE conference was another big watershed moment for me in my professional growth. I made many connections while there and really got to see the scale and scope of NAAEE in a new way.
My exposure to the Affiliate Network expanded again this past summer after being selected as a member of the VAEE team attending the 2019 Affiliate Leadership Clinic. When I saw the incredible work being done by all the Affiliates I knew that I wanted to become involved in some way with the amazing work being done by the Affiliate Network Steering Committee and the Affiliate Network as a whole. Not long after that, NAAEE announced the Affiliate Network Coordinator position opened and the rest is history in the making. 
I still continue to be involved in theatre and costume design in a variety of ways. I act (most recently in a production of Hello, Dolly! as show above), design costumes for shows (just ask to see a picture of the christmas tree dress I made this summer for RENT), and occasionally get pulled in on special projects, like the wedding cake headdress for Follies I just built. 
I am so excited to reconnect with or to meet many of you for the first time in Lexington. I hope to see you at one or many of the great opportunities during this year's conference, be it at one of the many exciting Affiliate Network concurrent sessions, at the Affiliate Dinner, during the Affiliate workshop, or at the Affiliate Welcome. It is certainly an exciting time to come on board, and I cannot wait for the incredible work we will do together.