eePROpel: New University Instructor Finds Help Through an eePRO Group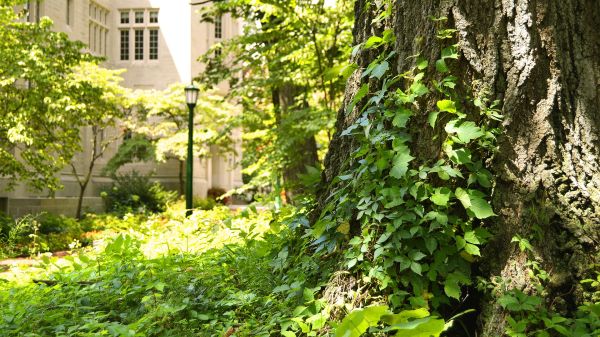 As part of the fifth anniversary of the launch of eePRO, NAAEE is featuring environmental education professionals who have used the platform to connect, collaborate, and learn. Subscribe to eeNEWS to follow along.
Our next story features Sarah Wolf, Park Naturalist at Hendricks County, Indiana, Parks & Recreation, who joined the eePRO Higher Education Group biweekly calls to get advice from other professionals and find out what it takes to succeed in teaching EE at a university level during a pandemic.
---
Sarah Wolf has always loved the outdoors. She grew up camping and hiking in Indiana's many state parks. She states, "In many ways, I have participated in EE all my life." While pursuing a degree in natural resources and environmental science from Purdue University, she shadowed an informal environmental educator who introduced her to EE as a career and inspired the realization, "Hey, I can get paid to do this!" She worked at Turkey Run State Park between semesters, removing invasive species and helping connect people to the local ecosystem. Sarah also worked as an interpretive park ranger at three national parks before starting her current job with the Hendricks County Parks and Recreation. For the spring 2021 semester, Sarah was hired to teach a course on Field Techniques in EE at Indiana University in Bloomington. This was to be her first time teaching at a university, a challenge made all the more difficult by the fact that the pandemic has completely upended the traditional classroom experience.
"The Higher Ed group has been a life-saver! The resources, ideas, and support during the group calls are fantastic. We have suggested and shared a variety of tools to improve online classes, like Google Jamboard and the jigsaw discussion technique. The atmosphere is very supportive; I've even reached out to some instructors about assignments they've talked about."
As she was browsing the eePRO Higher Education Group, an online discussion forum and resource sharing platform for EE professionals in higher education, Sarah found members discussing moving classes online and an invitation to join biweekly calls with other higher education professionals. Since last year, the group's moderators, Rebecca Franzen and Jeanine Huss, have been hosting these calls to discuss the unique challenges and opportunities associated with moving EE courses online. The calls have allowed instructors and professors across North America to connect, share thoughts and lesson plans, and bounce ideas off each other.
Sarah says the calls have helped make her course a success! She trained her students in the Project WET and Aquatic WILD curricula. Her students were excited to receive practical training and these guides for their professional resource shelf.
Her students read three books, including Last Child in the Woods by Richard Louv. Many had not yet read Louv's influential book which emphasizes the importance of nature for children. Sarah also introduced her students to resources available through NAAEE including the Guidelines for Excellence.
When asked what advice she had for other first-time college instructors, Sarah said:
"Ask a lot of questions. Don't be afraid to reach out and contact others. Many are willing to share syllabi and help a fellow instructor. And join the Higher Ed group on eePRO!"