Community-Based Science Gives Middle Schoolers a Voice for Education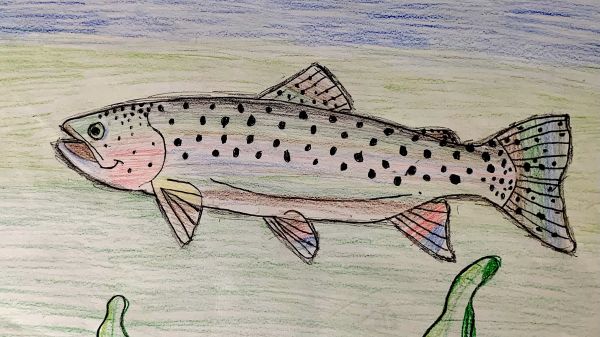 Welcome to our blog series, CEE-Change, Together. Each month, NAAEE will post narratives from the CEE-Change Fellows as they implement their community action projects and work to strengthen environmental education and civic engagement capabilities, all supporting the mission of cleaner air, land, and water. Join us on their journey! The Civics and Environmental Education (CEE) Change Fellowship is NAAEE's newest initiative to support leadership and innovation in civics and environmental education in North America. This ee360 program is a partnership between NAAEE, US EPA, and the Cedar Tree Foundation.
Middle school students from Groveton High School in northern New Hampshire are very passionate about environmental issues.  I hoped that being part of the CEE-Change Fellowship would allow me to discover ways to inspire them to take a more active role in their communities. I've always believed in hands-on, project-based learning, and I've had my classes become involved in community-based science. 
Much like many other schools across the world, we have needed to make major changes based on Covid protocols. Despite a variety of challenges, I also discovered new opportunities to engage students. What I did not expect was to make a fundamental shift in my way of teaching. 
The 2021–2022 school year started with two 7th grade classes identifying the three issues of greatest concern to them in their home communities. The students researched topics online relying on sources such as the U.S. Census data and NH Community Profiles. They used ArcGIS Survey123 and interviews to gain information. The classes read numerous articles and participated in activities with community partners such as NH Fish and Game, the WeatherX Program, and White Mountain Science, Inc. 
They studied climate change and sharpened their leadership skills by investigating empathy, self-awareness, decision making, communication and problem solving through Appalachian Mountain Club's A Mountain Classroom curriculum. After a trimester of investigation, the classes decided on climate, hunger, and health as the most urgent needs in their communities.
When asked, the students all had different motivations for choosing their topics: 

"I learned more about climate because I feel that most people don't care enough about our Earth." –Cam
"I studied hunger in our community. This is important to me because I don't like to see people go hungry." –Mylee
"I picked a project on health because I think hospitals are too far away from where we live." –Jason
Each student developed their own way of sharing what was most urgent to them. Seventh graders Aubrey and Mylee want people to know that hunger in our community is a big issue and that everyone can help make a difference. Aubrey interviewed Jackie Riff who organizes the Groveton High School food pantry. She learned there is only one other food pantry in Groveton and only twelve in the entire county. An average of six students per day visit the food pantry to take food home. Jackie explained, "There is a student with three younger siblings who fills two bags a day and that's alright because I know the family is struggling." She added, "Many students visit the food pantry looking for snacks. If you decide to donate to a food drive, be sure to include a few snack items."
Several groups focused on education, teaching middle school students about drinking water and volunteering as Youth Instructors with an after-school STEM program for elementary students through White Mountain Science, Inc. One group focused on informing second graders about hunger in our community. The students delivered a slide show that included a video about hunger, showed the in-school food pantry, and provided a list of other food pantries in the area. They also surveyed the students asking, "Do you waste food? Do you recycle? Do you donate to food pantries or local churches? Have you ever volunteered at a food pantry?" 
Our classroom started a hydroponic food tower and learned a lot about the mineral content of our local tap water. Students worked with NH Fish and Game to raise brook trout and warm water fish to learn more about wildlife management. As we near the end of the school year, students are looking forward to celebrating by releasing trout into the Upper Ammonoosuc River and taking a visit to the top of Mount Washington on the Cog Railway.
As I expected, students really cared about their chosen topics. They put a lot of effort into learning about their topic and how it affects northern New Hampshire. They worked together to share their findings through posters, articles, slideshows, and even a giant Jeopardy game using a 10 ft tarp. They became the experts. 
I noticed students were excited to make a difference in their community. They developed better research skills because they wanted to learn the answers to their questions, not a list from a textbook or that I created. When parts of the project became too large to handle as a group, students learned to divide the work. They needed to collaborate to create the final products with each student playing a crucial role. Students developed a greater sense of belonging as they learned about the needs and opportunities in their town. In some cases, the projects took on a life of their own, such as a group of middle school students working with the elementary school to create a Science Buddy program for the 2022–2023 school year.
The students started this project by hoping to find out about issues in Groveton. Their learning reached far beyond the environmental issues. Students who are not good test takers were able to demonstrate their Science competency orally, through artwork or the use of technology. Students who love to write were able to create articles, poems, and raps. Each student was able to shine in their own way. 
As the school year progressed, we've incorporated a variety of ways to learn in the classroom. We've spent more time outside and with our three fish tanks learning about ecosystems and less time with textbooks and videos. Students monitored the weather and chatted with a weather observer from the summit of Mount Washington as they were introduced to data science.
This school year confirmed my belief that approaching a theme through student projects increases student engagement. It allows students to demonstrate their Science competency by learning about something interesting to them. I was also reminded that individual projects take a lot of time—both my time and the students' time. They need to be structured with frequent check-ins. Projects take a lot of space, they are loud, and they are messy. 
Individualizing student learning also requires a lot of support from the students, other teachers, and administration. I am very fortunate to have a truly supportive middle school teaching team, a wonderful principal, Mrs. Erin Messer and an amazing superintendent, Dr. Ronna Cadarette. Groveton Middle School students have been able to connect school work with real life experiences. Most importantly, projects allow students to feel a greater sense of belonging in their community, to understand the relevance of what they are studying and feel a sense of pride in the place they call home.