Building Community Relationships and Conservation Impact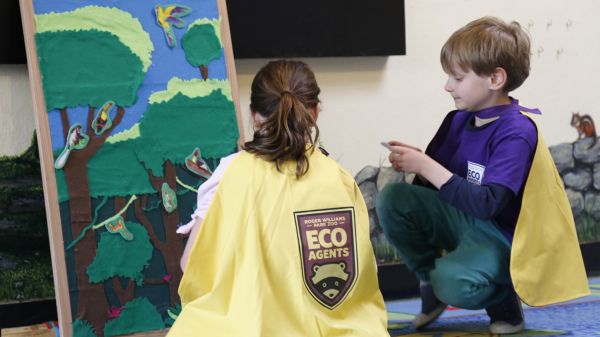 Submitted by: Shareen Knowlton
It's not often that you are able to attend a professional development workshop and put virtually everything you gleaned from that training into practice.  Thanks to serendipitous timing and a team that was eager to experiment with a new (to us) approach to conservation capacity building, our Roger Williams Park Zoo education department was able to do just that!   NAAEE's Guidelines for Excellence: Community Engagement workshop served as the inspiration for the development of Earth Agents™, a program designed to build our zoo's community relationships and our conservation impact.
In 2019, our zoo received a $2,000 mini-grant from the Association of Zoos & Aquariums and the Disney Conservation Fund.  These Spring Into Action grants were intended to help 50 accredited zoos and aquariums plan events to engage families in earth-friendly activities.  Many of our colleagues at other sites around the country held fantastic shoreline clean-ups, planted pollinator gardens, or led families in habitat restoration efforts.  We took a slightly different approach, and we think it paid off!
Having just attended the Guidelines training, we wanted to develop a program that would reflect the Community Engagement Key Characteristics we'd learned about.  (if you are unfamiliar with the Five Key Characteristics of environmental education that successfully engages communities, they can be found in the Guidelines PDF.) We didn't want to offer a one-time opportunity, but rather something that would live on beyond the Spring Into Action grant period.
Earth Agents™ is about supporting families who are interested in becoming leaders of change for wildlife and wild places.  It is about creating a sense of agency, hope, and empowerment.  In the program's inaugural season, we recruited 10 families to participate.  At a high-spirited kick-off rally, these families were introduced to each other and to our Zoo team.  T-shirts (and capes for our young Earth Agents™) immediately set the tone that we were all in this together.  We provided the families with an overview of an environmental focus that we were going to address together and gave them tangible tools and steps to do so.  We asked each Earth Agent™ family to host an event within their community to inspire and empower their circle to use these tools and take these earth-friendly steps.  We did not define family, community, or event.  Our goal was for Earth Agent™ families to identify their community and its priorities, interests, needs, and capacities.  We wanted their events to authentically resonate with and reflect the community with which the family identified. 
Having just opened a new rainforest exhibit at the Zoo, we decided to align our year one environmental focus with the exhibit theme: daily choices we make in Southeastern New England impact the rainforest, a world away.  At the kick-off rally, the younger children spent time in one of our classrooms meeting rainforest animals, playing rainforest games, and learning more about this wonderful place we were working to protect.  In another classroom, the adults and older children spent time discussing the ecological challenges facing the rainforest and delved into some of NAAEE's community engagement best practices. 
When the families regrouped, they came up with fun team names and started working on their event plans.  We coached and supported them, providing them with everything from rainforest 'Take Action' cards and Earth Agent™ pins to pass out at their events to feedback and validation of their ideas. 
Family events took so many different forms!  Team Kraken hosted a housewarming party in their new neighborhood and served locally sourced foods, and even a bat-friendly beer!  The Super Girls held a rainforest story hour at their local library and provided letter templates for guests to complete, encouraging corporations to source palm oil through certified sustainable channels.  Siena's Sloths sold rainforest-friendly muffins at a neighborhood yard sale and sent the proceeds to The Rainforest Alliance.  A Zoo staff member attended each family's event; not to facilitate, but to cheer them on and show our gratitude.
As part of our program evaluation, we looked at how the Earth Agents'™ self-perceptions changed over the course of the program season.  Each of our ten families reported gaining confidence and comfort with being change agents for conservation.  We wrapped up the season with a celebration back at the Zoo. 
Through all of this, what we found is that it was all about bringing people into the fold.  Building community and creating a sense of belonging.  "Together, we've got this," was something we heard more than once from our families.  Several of the families went on to host additional events and have increasingly become resources for conservation civic action within their communities.
Where do we go from here?  Following a successful launch season, we were contacted by our colleagues at the Association for Zoos & Aquariums.  They asked if we wanted to pilot the program in additional cities around the country with financial support from the Disney Conservation Fund.  So, in 2020, Earth Agents™ is going national!  With Healthy Habitats as this year's environmental focus, the Oakland Zoo and Zoo Miami are launching their Earth Agents™ chapters!  In January, our team from Roger Williams Park Zoo trained new Earth Agent™ mentors from these organizations at a meeting in Washington, DC.  We are incredibly grateful that NAAEE partnered with us in this workshop, and participants were able to spend a day developing a deeper understanding of the Guidelines resource and Key Characteristics.  We can't wait to see how these two zoos put their spin on this program, and to learn from their efforts.
Stay tuned for more about this next chapter!