The 2020 Taiwan-US Eco-Campus Partnership Program Award Ceremony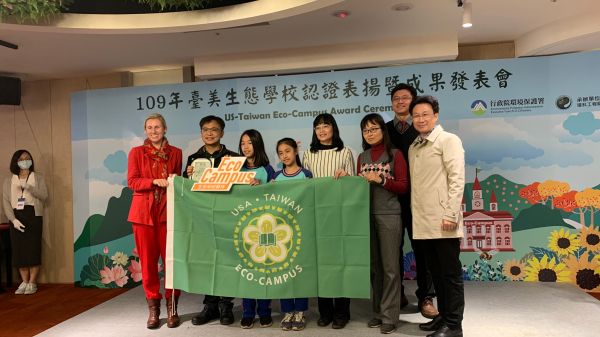 The 2020 Taiwan-US Eco-Campus Partnership Program Award Ceremony was held at the Caesar Park Hotel Taipei on December 2, 2020. The ceremony recognized the schools that received eco-campus awards in 2020, including 5 Green Flags, 11 silver awards and 16 bronze awards. The event was organized by the Taiwan EPA. Ms. Rhiannon Bramer, the Environment, Science, Technology and Health (ESTH) officer of the American Institute in Taiwan, was invited to deliver remarks and hand out the awards. The person in charge of eco-schools in the United States, Ms. Kim Martinez, Vice President of the Education Office of the National Wildlife Federation (NWF), gave her opening remarks via a pre-recorded video.
The five schools awarded the highest honor of Green Flag were Micang Elementary School, Jhong-Fu Elementary School, Sin-Nan Elementary School, Dashan Elementary School and Hu-Shan Experimental Elementary School. Among them, Dashan Elementary School and Hu-Shan Experimental Elementary School were repeat green flag award winners. A total of 32 schools set up exhibition booths and posters to showcase their environmental performance.
In addition to the certificated schools' poster exhibition, green flag schools displayed the apps, games, and tools they used. For example, Micang Elementary School displayed the "A-Hun Hot Spot App," which showed the results of ecosystem investigations and declaration results with the distinguishing crabs in the area. Jhong Fu Elementary School demonstrated the water sampling ball that was designed by students. They also cooperated with the river patrol team to ensure the protection of the river environment. Sin Nan Elementary School organized an herbs course series to enhance the understanding of herbs' characteristics and applications. Moreover, they made disease-prevention packages that included herbs as a health protection tool. The core concept of Dashan Elementary School is "Love Our Earth" with a wood class to cultivate the environmental literacy of students. Hu-Shan Experimental Elementary School had successfully incorporated the eco-campus idea into its education framework; students can acquire environmental protection ideas by exploring the surroundings.
Without a doubt, all the schools were delighted to obtain the certification awarded by the US-Taiwan Eco-campus Partnership Program. The program facilitated the cooperation between Taiwan and the US, and further enhanced students' awareness, observation ability, knowledge and action. The program is expected to bring about a tidier environment, healthier living and finally a sustainable home to live in. The Taiwan EPA endeavors to sustain international cooperation to keep people's minds open and let the world witness Taiwan's environmental performance.