National Marine Sanctuaries Virtual Dives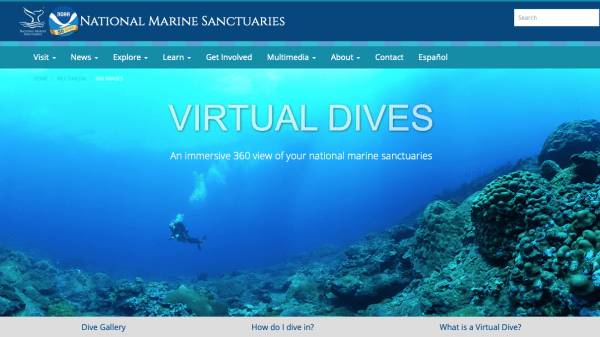 Immerse yourself in the ocean and your national marine sanctuaries without getting wet! These virtual reality voyages use 360-degree images to highlight the amazing habitats, animals, and cultural resources you can find in each national marine sanctuary.  Educators can use this resource to liven up their classroom lesson plans, or to inspire students to learn more about marine ecosystems.
These 3D videos fully immerse the viewer with what it's like to be underwater in a National Marine Sanctuary. Having the opportunity to watch protected animals swim just past your eyes is an incredible experience, especially since most people will never visit these locations in person. These dives can be experienced on a virtual reality headset for the most intimate experience and are also available for desktop computers and mobile devices.