[Book] The Sloth and His Friends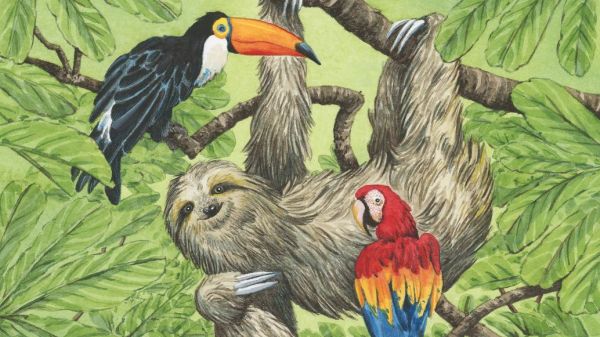 The Sloth and His Friends is a fun, heartwarming story about a sloth that teaches kids about the Amazon rainforest and its rich diversity of life. It's great for kids ages 7–12. The book effectively conveys messages about environmental protection, specifically centered around the Amazon rainforest. It offers well-researched content, including significant facts about the rainforest ecosystem. The book has gained popularity among elementary school teachers who use it as an educational tool due to its strong environmental theme.
Sal the sloth lives a rather dull life in the rainforest canopy. Although Sal has lofty goals, he struggles with his "slothfulness." While his animal friends run, jump or fly around, Sal can barely make it to the top of his tree. Meanwhile, rainforest life is disturbed when a logging company begins clear-cutting trees and burning brush near Sal's home. What will Sal and his friends do? How will they survive? Will nature-loving humans come to their aid?
Here are three things to know about this book:
1) The Sloth and His Friends is a humorous and heartwarming story in the tradition of animal books like Charlotte's Web and Stuart Little. It offers both the animal and human perspectives of life in the Amazon rainforest, and it draws attention to environmental issues facing the world today.
2) When a forest fire destroys his tree, Sal becomes an unlikely hero by risking his life to save a baby sloth.
3) Paul Jenkins, the owner of an eco-lodge not far from Sal's tree, must deploy emergency measures to protect his family, employees, and guests as the forest fire threatens to burn a large section of the Amazon rainforest.