Samsung Solve for Tomorrow!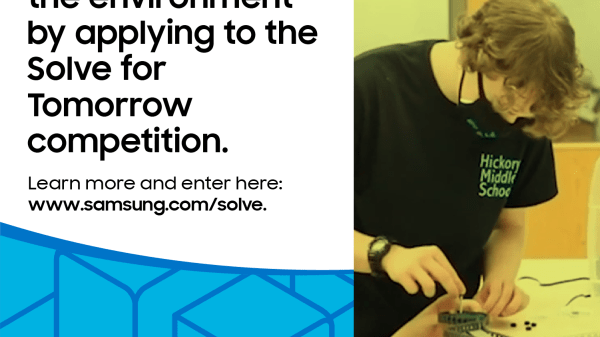 Samsung Solve for Tomorrow is a national competition for 6-12 grade students that encourages problem-solving through STEM, and the application period is open!
Deadline extended to November 15, 2021 - Apply to be a part of the #SamsungSolve family and for the chance to win up to $100K in tech for your school, in addition to Problem-Based training for teachers registered in the program.
Samsung Solve for Tomorrow is looking for innovative ideas to solve problems in communities, and, in partnership with NAAEE, has launched a sustainability track for this contest. This contest open to 6–12th grade students in the United States. We all know how important environmental education is to encourage cross-disciplinary thinking and student-driven action, and this is a wonderful opportunity to put the students in the driver's seat to design their own creative solutions.You can learn more about previous winners through the website, www.samsung.com/solve.