Experience Nature-Based Education Around the World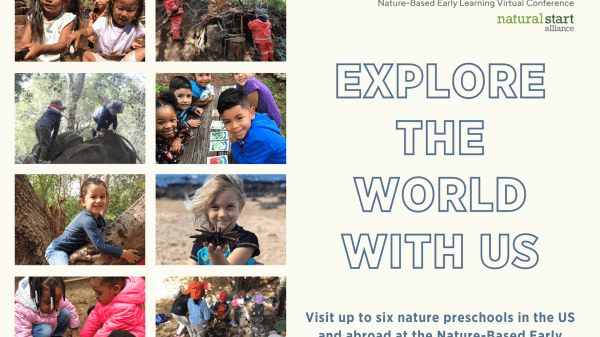 Natural Start's annual Nature-Based Early Learning Conference is a unique opportunity to connect with professionals in the field of early childhood environmental education. Though we miss the hustle and bustle of gathering in person, we're making the most of the virtual platform, and the greater accessibility that comes with it. The conference is now available anywhere with an internet connection, allowing us to welcome participants from across the globe to share their breakthroughs in nature-based early learning, all without adding to our carbon footprint.
One of the most exciting additions this year is a series of virtual site tours, with locations both in the United States and around the world. These tours are an extraordinary opportunity to learn how a variety of nature-based preschools operate, meet their staff, and gain a global perspective of early childhood environmental education. Best of all? You can experience the beautiful nature that makes their centers unique, all from the comfort of your own home! Without ever getting on a plane, you can explore high-quality programs in North Carolina, Washington, Hawaii, India, Japan, and Australia. And if you tell your friends that you traveled the world this summer, your secret is safe with us.
Site tours are available as an add-on to the standard conference registration. Tours will be recorded and available on demand after the live events.
Learn more about the extraordinary education centers being featured and register for the conference today!