Working and Partnering with Conservation Canines – Hybrid Courses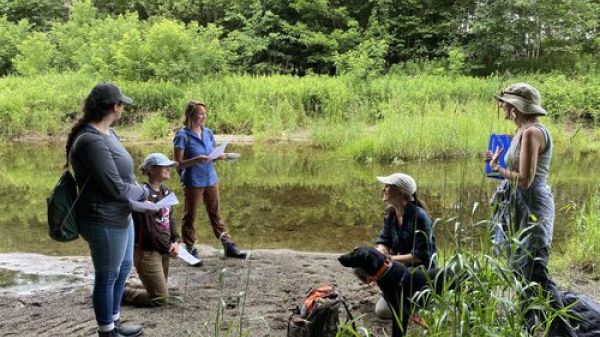 Scent detection dogs are increasingly used in conservation research to improve the frequency or probability of finding biological samples or focal organisms, including rare or cryptic species. We offer a series of three short courses (Course #1–2 online; & Course #3 field) designed to provide an appreciation for this emerging field and the science behind it, while presenting real-world examples, logistics, and considerations underscoring the potential benefits of this approach.
Course #1: Intro to Working with Conservation Canines
Ideal for students, researchers, and others new to learning theory, working dogs, and scent detection training. Using an online platform to illustrate key concepts via lectures with video clips and interactive discussions, it provides an overview of scent detection applications, animal training basics, general principles of scent detection training, and dog selection considerations.
Course #2: Detection Dogs as Partners in Conservation
For more experienced participants, this Case Study follows four seasons of fieldwork with a target species, while also covering related topics such as building a collaborative partnership, quantitative assessment of training techniques and methods, ethical considerations, and the burgeoning community of conservation dog professionals.
Course #3: Canine Scent Detection Field Workshop
Finally, for a small group of advanced students, we will offer an intensive three-day in-person that features foundational search training simulations, discussions of techniques and methods, recreations of ground truthing and early field training steps, and participation in scat detection fieldwork for an ongoing black bear research project in Maine.
PREREQUISITES: None for course #1. For courses #2 & #3, participants should have an understanding of training principles, learning theory, and some familiarity with working dogs, otherwise an introductory training course is helpful (e.g., Introduction to Working with Conservation Canines and/or Detection Dogs as Partners in Conservation).
FORMAT: For courses #1 & #2, Students will take the course largely at their own pace over a two-week period. Activities for the online course consist of pre-recorded lectures, synchronous and asynchronous mid-week discussions based on articles from the primary and secondary literature, as well as weekly real-time discussions around themed topics and applied training scenarios, and an online Q&A forum for other professional development and related training questions.
Course #3 is an in-person, intensive three-day workshop (~ 8-hour days) set in beautiful Maine in summer. All travel and lodging arrangements, including limited travel to and from workshop locations, are the participant's responsibility. Participants should not bring their own dog; while the course will have many hands-on and interactive elements, students will not be handling the conservation dogs themselves. Activities will include simulations, demonstrations, group discussions and fieldwork.
DATES:
Course #1: Jan 2–16, 2023
Course #2: Mar 6–20, 2023
Course #3: Summer 2023