Webinar – 60 minutes with Joseph Fiksel – Enterprise Resilience: Embracing Change in a Turbulent World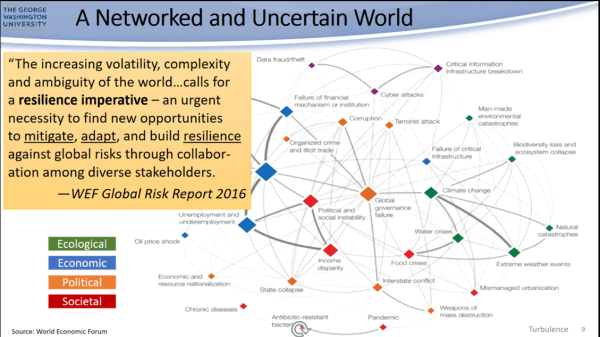 World Economic Forum's (WEF) "Global Risks Report" identifies and analyzes a broad range of risk factors that may impact global economic development, ranging from climate change to technological failures to political unrest. Any of these risks alone would be challenging to cope with, but when they occur simultaneously and interact with one another the challenges can seem overwhelming.
In a highly networked world, risk management needs to be supplemented with resilience management, which involves a different set of tools and metrics, based on systems thinking. Join me and author, educator and resilience expert Joseph Fiksel for a sixty-minute discussion about "Enterprise Resilience – Embracing Change in a Turbulent World".
Joseph Fiksel
Joseph is one of the original thought leaders in the field of enterprise sustainability and resilience. He has consulted for corporations, government agencies, and non-profit consortia in the U.S. and around the world. Joseph co-founded the Center for Resilience at The Ohio State.
He later took the role of Executive Director of the Sustainable and Resilient Economy program, a forerunner of the university-wide Sustainability Institute at Ohio State.
Currently, Joseph is a Visiting Scholar with me at George University University's Environmental and Energy Management Institute. He will be offering a Spring 2020 online professional education short course on Enterprise Resilience, which he will preview in the webinar. Webinar participants will receive discount codes for Joseph's seminal book, Resilient by Design, published by Island Press and for the GWU short course.