Storytelling with Data: Building Knowledge through Visualizations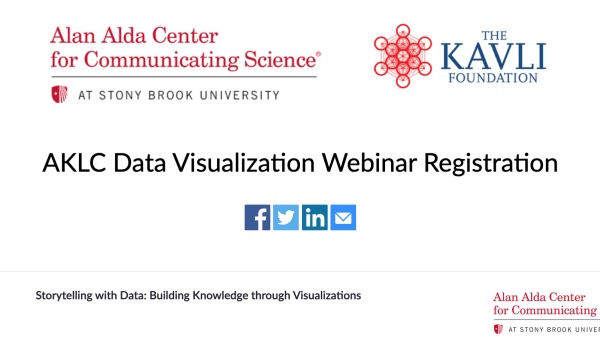 Data visualization enables analysts and organizations to see huge quantities of data clearly and identify patterns quickly. However, in today's world, where data is overwhelming, creating and communicating through compelling data visualizations can be tricky.
In this webinar, panelists will discuss the field of data visualization and its impact. They will also walk us through important processes, activities, and best practices for creating compelling data visualizations by showcasing practical examples of their work.
Speakers:
Dr. Heather Lynch, IACS Endowed Chair of Ecology & Evolution at Stony Brook's Institute for Advanced Computational Science; 2019 winner of the Blavatnik Awards for Young Scientists
Daisy Chung, Award-Winning Science Visual Communicator & Illustrator whose work has appeared in Scientific American, National Geographic, Cell Press, and The Journal of Neuroscience, among others
Moderated by Nicolás Wiggenhauser, Ph.D. candidate in anthropological sciences and student of science communication at Stony Brook University
 
This webinar is offered with support from the Kavli Foundation.