Do-It-Yourself Trail User Research You Can Start Right Away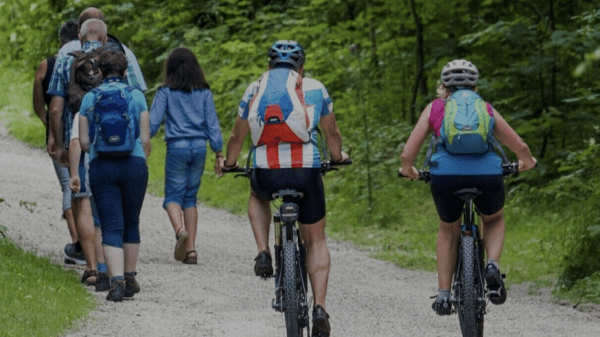 Do-It-Yourself Trail User Research You Can Start Right Away
THREE 1-HOUR VIDEO CONFERENCE SESSIONS
WEDNESDAYS APRIL 5–19, 2023 • 10–11 PT/1-2 ET
In this course, you will learn how to pull together—and pull off—a meaningful trail study that you can afford. You'll emerge with a plan for a trail study that you can implement right away, whether you have money or not, using targeted volunteer effort, free or low-cost tools, and an approach focused on what you most want or need to learn. You will also learn how to analyze your results, present findings, and use your study to catalyze action. These studies can help you learn:
Who's using your trail, how, how often and why;
Trail users' perceptions of safety, facilities, cleanliness, maintenance, other users, and user conflicts;
Amenities that trail users want or want more of;
How much trail users spend in nearby communities, and where they stay;
How residents perceive the trail and trail users and more
This course will help you learn how to:
Define and focus your objectives so you're not biting off more than you can chew, and design a trail study to match both your objectives and your resources.
Estimate numbers of trail users, with or without trail counters.
Develop and conduct surveys and other data-gathering techniques for trail users and visitors.
Collect information and insights about community perceptions.
Collect data you need to estimate your trail's economic impact.
Analyze data, including simple ways to estimate economic impact.
Present and leverage your findings to make a difference for your trail and your community.
IS THERE HOMEWORK?
There is no specific requirement for work outside of the sessions. You can choose to take in the information to apply to developing a study or gathering information about trail users when you're ready. If you follow along with the course, you will have a plan outlined after the last session. By investing more time between sessions, you can use the three weeks of the course to develop a detailed research plan that's ready to implement right away.
WHO IS THIS FOR?
Recreation and open space program managers • Trail advocates and friends groups • Heritage site managers • Chambers of Commerce & business alliances • Community & economic development staff • Tourism promoters • Place-based & conservation organizations • Extension & community development professionals • Scouts • High school and college students • Downtown & Main Street groups • Business owners & other community leaders
COURSE INSTRUCTOR 
Michele Archie, Principal, The Harbinger Consultancy
Michele Archie, Harbinger principal and lead for collaborative regional economic analyses, economic impact projections, visitor and resident surveys, outdoor recreation assessments, and peer area reviews. Michele has led more than three dozen such studies for national and state parks, World Heritage Sites, trails and other recreational and protected areas across the United States, and has consulted with organizations seeking to conduct their own studies. See Michele's
LinkedIn profile
.