Your DIY Costume Can Help Wildlife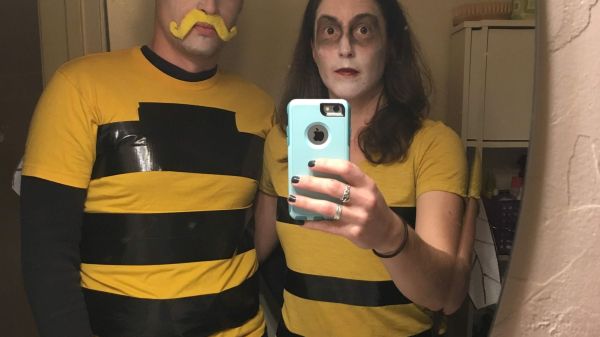 Halloween is approaching and costume parties may have already started to pop up on your calendar. If October slipped away from you and you've found yourself costume-less, don't rush out to the closest Halloween store just yet.
You can save Halloween with a quick and easy do-it-yourself costume. As a more budget-friendly and wildlife-friendly option, your last-minute homemade costume can be a win-win.
Americans will spend an estimated $9 billion on Halloween this year, and costumes are a large part of that figure. On average, men spend $96 dollars on costumes and women spend $77. For that hefty price tag, these costumes must be high-quality, right? Wrong.
Costumes you find in the store are usually made of cheap, mass-produced synthetic materials. These fabrics are often petroleum based and can be resource intensive to create. They're non-biodegradable, just like the plastic packaging they come in. And these costumes aren't made to be durable since they're intended to wear just one night of the year.
When old costumes make the inevitable trip to the landfill, they will continue to leach chemicals into the environment. Sea life is especially at risk as many of these pollutants get into our waterways. The fabric and plastic also pose entanglement and choking hazards for wildlife.
So avoid the negative environmental impacts of store-bought costumes, and save a few bucks by opting to make something yourself.
The first step to any good DIY is to see what you already have that can be used. Do you have some clothes that can be temporarily altered for a costume? Or maybe you have some pieces you don't wear anymore that can be totally transformed.
Are you crafty and have some leftover supplies like fabric or ribbon scraps laying around that can be used for an outfit? All of this could help put together a whole costume without having to leave your house.
If the answer isn't already hanging in your closet, then venture out to your local thrift store. It'll be more affordable than a brand-new costume and you'll be giving the clothes new life. It's also a great place to find accessories for costumes. Consider picking pieces you can use again. People tend not to repeat costumes, but some items are more versatile than others, especially more simple outfits that rely on accessories.
Now that you know how to make a homemade costume happen, it's time to get the creative juices flowing for your own get-up. The sexy cat is played out, so what about going as an endangered species this Halloween?
You're more likely to have a one-of-a-kind costume if you pick a rare and imperiled species. Plus, you have a built in conversation topic when you advocate for your creature of choice.
Here are five DIY endangered species costume ideas to get the ball rolling:
1) Add simple felt wings to your favorite black outfit for a monarch butterfly.
2) Repurpose a veggie tray into a shell to become a loggerhead sea turtle.
3) Give beige-and-brown fabric scraps new life as a Mexican spotted owl.
4) Watch this step-by-step video to make a wolf mask.
5) Use basic craft supplies for a quick bumblebee (bonus: add spooky makeup to make it a zom-bee).
This blog post originally appeared on Sarah Ballie's Medium page, viewable here.