Recognizing the 2019 NAAEE Outstanding Affiliate- AEOE (CA)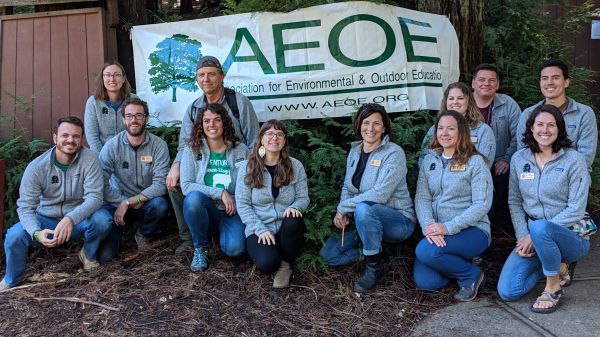 This year the California Association for Environmental and Outdoor Education (AEOE) was honored with the annual Outstanding Affiliate Organization Award. We asked AEOE's Executive Director Estrella Risinger a few questions to get to know more about AEOE's history, what they are currently working on and their vision for the future of EE in California.  
Is there anything you would like other Affiliates to know about AEOE they may not already? 
In 1954, at a conference for outdoor educators, a dozen or so visionary and dedicated instructors realized the value of establishing a professional organization, the first such association in the nation. Acknowledging that it would take financial investment, each person reached into their wallet and placed a dollar bill on a tree stump. This action was the start of the Association for Outdoor Education (AOE), which became AEOE in 1971 (adding the word "Environmental"). AEOE became the NAAEE California affiliate in 1999 and a 501(c)(3) nonprofit in 2006.
AEOE was a volunteer-run organization for 64 years, focused solely on running conferences and providing networking opportunities for environmental and outdoor educators. This past year, we hired our first ever Executive Director, with the goal of increasing the organization's capacity to advance environmental and outdoor education in California.
What current initiatives are most exciting for AEOE right now?
AEOE has long been a valued resource for informal or nonformal educators in California. The core of our membership has come from residential environmental education programs, or overnight outdoor science schools, of which we are extremely proud. With increased organizational capacity, we seek to better represent and support the variety of programs and program providers across the state while continuing to serve as a trusted resource for our existing membership. Our efforts focused in three areas:
Connect: We convene program providers to build a diverse, equitable, and inclusive network of skilled practitioners
Educate: We provide learning opportunities that are aligned with best practices and content relevant for our field
Advance: We promote quality environmental education among the varied programs and opportunities within our state for all youth to experience outdoor and environmental education
What is your favorite part about the AEOE community?
AEOE's community is comprised of passionate, fun, thoughtful, and caring individuals who are working to make the world a better place. The dedication and commitment of our board and volunteers continues to astound me.
What amazing things do you have planned for the rest of the year and into 2020 and beyond?
In addition to working on the launch of California's EE certification program, AEOE is seeking ways to better support our members (both individuals and institutions) through professional development and networking opportunities across the state. We have a number of events planned, with several more in the works, including site visits in northern and southern California for program managers and leaders; a summit focused on the role of social and emotional learning in nature-based programs (offered through the collaborative efforts of NatureBridge, Outward Bound, and the Student Conservation Association; and our annual statewide conference in the spring. More information on these events can be found at aeoe.org/events. 
AEOE will be hosting their annual fall Northern and Southern sectional conferences this November we asked Estrella to give us a brief overview of all the great opportunities for learning and fellowship happening in California over the next few weeks. 
AEOE's Northern fall conference will take place November 1st-3rd, 2019 at Sly Park Environmental Education Center, located in Pollock Pines, California. AEOE's northern fall conference will draw more than 120 environmental and outdoor educators and education leaders. We are excited to bring together Environmental Educators from a wide variety of locations, backgrounds, and experience levels as a forum in which we can learn from one another as we build bridges to the future- the theme of this year's Northern section conference.  The conference will feature over 30 workshops, a keynote from Rob Wade from the Plumas County Office of Education, and a plenary panel entitled Perspectives: Underrepresented Voices in EE. There will also be informal learning opportunities, including breakout sessions and a glimpse at Sly Park's science festival. One highlight of the conference will be the recognition of the Northern California Environmental Educator of the Year Award recipient. 
AEOE's Southern fall conference will take place at Pathfinder Ranch in the San Jacinto Mountains Friday, November 15 - 17,  2019. The conference includes 15+ environmental education workshops, a Keynote Speaker, and Saturday night campfire entertainment. One highlight of the conference will be recgonication of the  Southern California Environmental Educator of the Year Award recipient. This award is given annually to an environmental educator who is currently teaching in the field and loving it, has contributed to the success of environmental education in the state, and who leads by example within the field. AEOE's southern fall conference will draw more than 70 environmental and outdoor educators and education leaders. 
We want to thank Estrella for her time answering a few of our questions and to offer our best wishes for both of AEOE's sectional conferences. Again a hearty congratulations for being reconized as this year's Outstanding Affiliate thanks for all the great work you all do in California!