PLT GreenSchools Honored as 2018 Green Ribbon Schools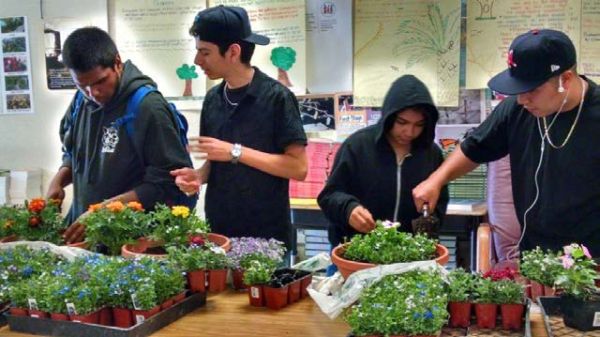 Project Learning Tree (PLT) is thrilled that 6 PLT GreenSchools, one PLT school district and one PLT institution of higher education are among the 46 schools, 6 school districts and 6 institutions of higher learning recognized this year as U.S. Department of Education Green Ribbon Schools (ED-GRS).  With the 2018 cohort, the award has now honored some 385 schools, 62 districts, and 40 postsecondary institutions with a considerable percentage of these awardees being PLT GreenSchools and school districts.
The awards acknowledge the innovative efforts of students, teachers, and school administrators across the country who are working to reduce their school's environmental impact and utility costs, improve health and wellness, and ensure effective sustainability education. The diversity of U.S. Department of Education Green Ribbon Schools, District Sustainability Awardees, and Postsecondary Sustainability Awardees and range of their work proves that any school, district, or postsecondary institution can take steps to improve the sustainability, health, and safety of school facilities; ensure nutrition and fitness practices for a lifetime of wellness and productivity; and engage students in real-world learning.
2018 PLT U.S. Department of Education Green Ribbon Schools
Alabama
Woodland Forest Elementary School, Tuscaloosa, AL
California
Jack London Community Day School, Valley Glen, CA
Georgia
Saddle Ridge Elementary Middle School, Rock Springs, GA
Georgia Southern University, Statesboro, GA
Kentucky
Meadowthorpe Elementary School, Lexington, KY
Massachusetts
Arlington Public School District, Arlington, MA
Minnesota
River's Edge Academy School, St. Paul, MN
Missouri
St. Louis University High School, St. Louis, MO
Here are highlights from three PLT GreenSchools recognized this year as U.S. Department of Education Green Ribbon Schools.
Jack London Community Day School, Valley Glen, CA
Building a more peaceful, just, and sustainable world
JLCDS is a small high school in the Los Angeles Unified School District, the largest school district in California. At JLCDS, sustainability is not only about the environment, it's also about empowering students to redirect their lives and learn to become positive agents of change through an ethic of environmental citizenship. Jack London practices sustainable, urban horticulture as a way to meet the needs of the 21st century and manage an increasingly urban environment. Much of the effort involves container gardening on asphalt, the quintessential urban environment. The garden consists of 30 raised beds, two asphalt cuts, 47 fruit trees, and numerous pots. JLCDS designed and built their own raised beds. Vegetables, herbs, berries and fruits are grown organically and the garden literally bursts through the fences.
Georgia Southern University, Statesboro, GA
Leading the community as a high performance healthy school
Georgia Southern is the state's largest and most comprehensive center of higher education south of Atlanta. As of fall 2017, Georgia Southern has an enrollment of 19,085 students, and operates 5,658,871 square feet of facilities on 900 acres. The university has made the principles of sustainability fundamental to every aspect of the higher education the school provides. The entire campus is committed both to preparing students to develop the solutions for a healthy and sustainable society and making sustainability a core value in operations and planning.
The university was named one of the top green universities for the sixth consecutive year by the Princeton Review and also was given awards of excellence for work in creating a pedestrian-friendly campus to reduce carbon footprint and encourage healthy habits.
River's Edge Academy School, St. Paul, MN
Boundless experiential and environmental education through partnerships
River's Edge Academy (REA) is an environmental charter high school in the Westside neighborhood of St. Paul, Minn. REA challenges students to discover their greatness by learning through experience in a small, supportive community. The school takes pride in its low student-to-staff ratio: REA caps enrollment at 80 students and has 16 full-time staff members. Fifty percent of students receive free or reduced-price lunch. REA demonstrates its commitment to environmental learning through conscientious use of the facility and ongoing reductions in resource use, as well as unique courses that incorporate environmental learning, the outdoors, and integrated health curriculum. River's Edge is in an ideal location to make use of the outdoors as an educational and recreational resource. REA's outdoor classroom includes a vegetable garden and chicken coop, and the school is located across the street from the Mississippi River and Harriet Island Park
By Jamres Riley McGirt, PLT Manager, Service Learning & Community Engagment and NAAEE eePro GreenSchools Moderator