From Inspiration to Impact - NAAEE Strengthens the Green Schools Movement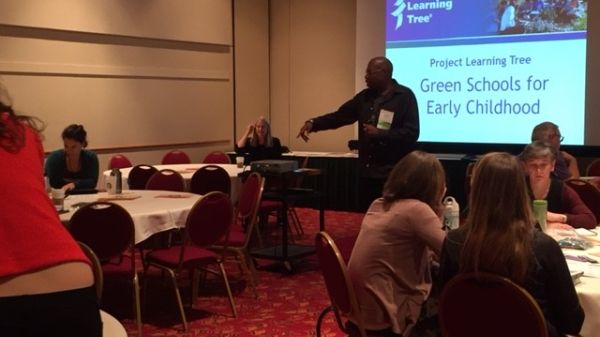 I had the pleasure of attending my 7th NAAEE conference this past week in Madison, WI. This year's theme, From Inspiration to Impact, was meant to reflect the power of environmental education to not only inspire and motivate, but also lead to measurable results. I can enthusiastically attest that from my perspective as a manager of a national green schools program (Project Learning Tree GreenSchools), NAAEE was successful in achieving this goal by providing a forum to catapult the ever-growing national Green Schools movement.
Although PLT GreenSchools, as well as other green schools programs, has engaged and presented at every NAAEE conference since the program's inception in 2008, this was the inaugural year that NAAEE implemented an independent Green Schools strand. In the past, green schools programs would be housed under a myriad of conference strands and sometimes not receive the maximum attention that this effort warrants.
This year's Green Schools strand at NAAEE highlighted using environmental education to transform education, enhance student achievement, conserve resources, support national and international education trends, link schools and communities, and build support for environmental education on K–12 campuses. There were over 30 diverse and innovative Green Schools sessions telling transformative school and community stories from as far as Mornington, Australia and Mexico City to as close as Wisconsin's own Conserve School. Plus the first NAAEE GreenSchools Symposium was held entitled "Creating 21st Century Partnerships through Whole School Sustainability."
The big takeaway is that the Green Schools movement is too important to be relegated to peripheral status. Kudos to NAAEE for taking a lead role in making this happen with a little friendly nudge from Project Learning Tree, Green Schools Alliance and Wisconsin's Green and Healthy Green Schools programs. Green Schools programs can no longer be treated as outliers and siloed from school academia or facilities management. They are of vital importance and should be treated as such because they pay tremendous dividends for students, schools, communiities and our environment when given the opportunity! Just ask NAAEE.
By James Riley McGirt
Manger of PLT GreenSchools Program &
Co-Moderator NAAEE eePro GreenSchools