EE Leaders Convene in South Africa to Plan for a GEEP Africa Hub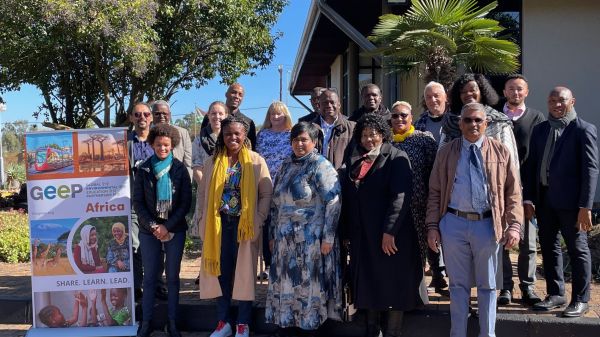 NAAEE was excited to be part of a wonderful gathering in South Africa the week of June 1 to discuss creating a Global Environmental Education Partnership (GEEP) Africa hub. GEEP is a vibrant learning network designed to share effective practice, support collaboration and leadership, and strengthen environmental education (EE) and sustainability around the world. NAAEE serves as the Secretariat of the GEEP and worked with U.S. EPA and our colleagues in Africa to conduct a 2-day workshop to explore opportunities across the continent.
We had the pleasure of working with the Africa planning team (listed below), as well as Ginger Potter, the senior environmental education specialist at U.S. EPA and a member of the GEEP Leadership Team, and Daniel Lee from the Office of International and Tribal Affairs at U.S. EPA. The members of the planning team from Africa included:
Ravhee Bholah, associate professor, Science and Mathematics Centre of Open and Distance Learning and ESD coordinator, Mauritius Institute of Education
Adedoyin Adeleke, executive director of the International Support Network for African Development (ISNAD-Africa), Nigeria (also an EE 30 Under 30 alumni)
Professor Mphemelang Ketlhoilwe (MJ), GEEP advisory board member
Cindy-Lee Cloete, general manager, WESSA Wildlife and Environment Society of South Africa
The overarching goal of the meeting was to map out existing EE/ESD networks and organizations across Africa and determine how to advance GEEP and EE throughout the continent. The objectives for the meeting included a discussion of the following areas of collaboration:
Discuss opportunities to strengthen environmental education (EE) and sustainability across Africa and connect with other colleagues to discuss policies, research, gaps, priorities, and more.
Identify potential collaborations across the continent and connect to GEEP Global.
Explore ways to strengthen existing EE networks and structures.
Identify next steps for developing a regional GEEP hub in Africa, for Africa.
Thank you to everyone involved in this initial GEEP Africa hub planning meeting, especially to Taiwan EPA. Taiwan EPA is a core partner of the GEEP and helped launch the first GEEP hub, GEEP Asia-Pacific Regional Center (APRC).
We're all excited about the next steps, and we will have more information on GEEP Africa in the future. For inquiries, please contact GEEP@naaee.org.