Check Out the EE 30 Under 30 Class of 2019!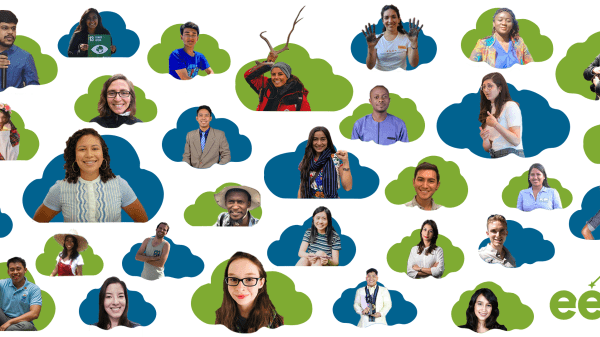 NAAEE announced the EE 30 Under 30 Class of 2019, and these inspirational leaders have one thing in common: the ability to treat environmental challenges in their communities as opportunities. This incredible group consists of teachers, conservationists, researchers, and social entrepreneurs that are addressing issues that range from mitigating tensions between humans and wildlife to mobilizing students to take climate action.
The fourth class of EE 30 Under 30 represents 16 countries and was selected from a competitive pool of over 175 nominees. These leaders not only represent a global trend of youth taking action for environmental causes, but were chosen because they harness the power of education to create a more sustainable future. NAAEE will provide this class with professional development and networking opportunities that include a growing community of 120 fellow leaders, opportunities to speak and present at our 2019 conference, and access to webinars and other resources.
EE 30 Under 30 Class of 2019:
Adam Young
, 29, Canada
Ajay Mittal
, 29, India
Alerick Pacay
, 27, Guatemala
Alex Goetz
, 27, United States
Ananda Winny Mezha Puteri
, 20, Indonesia
Anna Tari
, 30, Spain
Anoka Primrose Abeyrathne
, 28, Sri Lanka
Beatriz Cañas
, 30, United States
Charles Mugarura
, 28, Uganda
Corrie Grosse
, 29, United States
Dyson Chee
, 17, United States
Eduarda Zoghbi
, 26, Brazil
Emmanuel Ken Ekwerem
, 26, Nigeria
Erinn Drage
, 24, Canada
Jasveen Brar
, 24, Canada
Kim Alvin C. De Lara
, 28, Philippines
Kimi Waite
, 30, United States
Lyndsey Franklin
, 23, United States
Mariam Kabamba Merry
, 30, Democratic Republic of Congo
Nicole Andreou
, 28, Denmark
Niria Alicia Garcia
, 27, United States
Pangaea Finn
, 14, United States
Quek Yew Aun
, 27, Malaysia
Raquel Ruth Condori Mamani
, 29, Peru
Rumbidzai Pamela Magwiro
, 26, Zimbabwe
Sara Alamo
, 28, Argentina
Sean Russell
, 27, United States
Stephanie Quon
, 18, Canada
Vermon D. Timbas
, 30, Philippines
Veronica Lin
, 25, United States
All of the winners creatively implement environmental education to find sustainable solutions. Mariam Kabamba Merry, for example, is the National Coordinator of Congo Environnement et Nature in the Democratic Republic of Congo. She leads a project educating students about pollution prevention while planting trees in their schoolyards. Her organization is on track to reach their goal of planting 2,000 trees at 200 schools while working to train women to use biodegradable waste as a fertilizer in urban agriculture. 
The Class of 2019 has a wide range of backgrounds and skillsets, with some even working to promote effective practice in environmental education. One of the winners, Adam Young, has a history in classroom teaching and worked his way to become the Chair of the Canadian Network for Environmental Education. He was nominated for his ability to create effective and large networks while inspiring educators to put "policy into practice" by showing the positive impact environmental education research can have in the classroom.
Of course, the success of all leaders depends on their ability to inspire their community. In the region of Madre de Dios in Peru, the "Biodiversity Capital of Peru," Raquel Ruth Condori Mamani addresses challenges that include mercury contamination, habitat destruction, and human and wildlife trafficking. She doesn't do this through lectures in the classroom. Instead, she immerses students in a full-day, interactive environmental education experience that inspires them to value sustainability through the opportunity to feel, touch, and appreciate nature. 
"We are honored to recognize and empower the next generation of environmental game changers from around the world," said Judy Braus, Executive Director of NAAEE. EE 30 Under 30 is made possible thanks to the support of the Global Environmental Education Partnership, the U.S. Forest Service, and Wells Fargo.