Affiliate Spotlight: Arizona Association for Environmental Education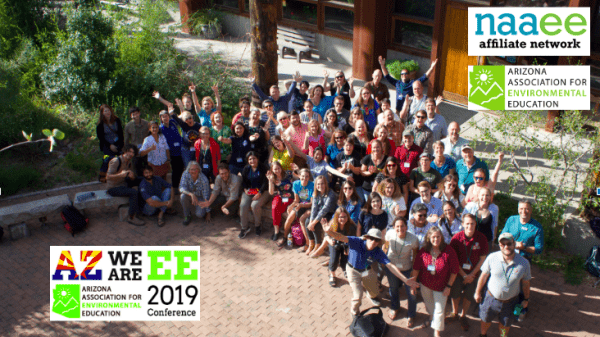 As we look ahead to the 2020 NAAEE Conference in Tuscon, Arizona we thought that it would be great get to know more about our Arizona Affilate and 2018's Outstanding Affiliate Organization -  the Arizona Association for Environmental Education. To learn more about this awesome group we asked AAEE Board President and 2020 Conference Co-chair LoriAnne Barnett a few questions about AAEE's history, what they are currently working on, and their vision for the future of EE in Arizona.  
Is there anything you would like other Affiliates to know about AAEE they may not already?
We are an organization that has deep roots in Arizona. Our organization (and its prior configuration) has been around since the 1970s - many people have been engaged in some way for a very long time. We've ebbed and flowed over the years, but have recently found solid footing again, although we do not have any paid staff. Most of what we've accomplished over the last year or two has been done by a dedicated team of about 6-10 people! 
What current initiative(s) are most exciting for AAEE right now?
The Master's Level Certification is really exciting to dive into - we've got a great team together with formal and non-formal expertise. This Certification will include an action research or program planning component and it is fun to think about creating a product that serves a diverse audience. We are hoping to have folks follow up with us after three years time to report on their outcomes. 
Another exciting initiative is our board and committee leadership model. In order to move our working/governing board toward the next generation of programmatic success we must have a strategic way for moving the work forward among a small handful of team members only able to commit a very few hours a week. Our new model has each board member serving in a leadership/management role, taking ownership over the work. We are clear about the amount of time we are asking folks to commit, and supportive if they find that they are unable to achieve that goal. Our Board Retreat in 2020 will be a professional development experience related to program planning and outcomes, not just at the board level but for our smaller projects and committees as well. I know it seems like a no-brainer, but I think lots of folks need some guidance on how to be and work most effectively given time constraints!
What is your favorite part about the AAEE community?
I love how everyone is willing to share what they know works. Everyone that I've worked with is also super supportive and collaborative, working toward common goals rather than competing for the very limited resources we have. Together we can achieve great things!
What amazing things do you have planned for the rest of the year and into 2020 and beyond?
We have a very successful Basic EE Certification program that has, in the last five years, certified about 60 traditional and non-traditional educators. We are designing a Master's level certification which we will put through the NAAEE Accreditation program in 2020/21. We also hosted our first conference in 10 years this past September and brought together 110 people ready to share ideas with like-minded folks in person. In 2020 we are also welcoming four new board members, most of whom are new to our organization. 
NAAEE 2020 is in Tucson, AZ next year- What is one thing that everyone should plan to do or see while there?
One thing, YIKES! So many great things to see here - The hour-long drive to the top of Mt. Lemmon on the Catalina Highway Scenic Drive is a spectacular way to experience all of the ecosystems found in Arizona and beyond. It also includes an opportunity to listen to the free Mt. Lemmon Science Tour on the way to the top.  The Arizona-Sonora Desert Museum is also a must-see to learn about the diversity of the Sonoran Desert spanning the international border. We are also a birding hot-spot so bring your binos and get ready to explore our Sky Islands from Madera Canyon in the Santa Rita Mountains south of the city, home to the Elegant Trogon, to the urban oases of Sabino Canyon Recreation Area or Sweetwater Wetlands and beyond.