2019 Green Schools Conference & Expo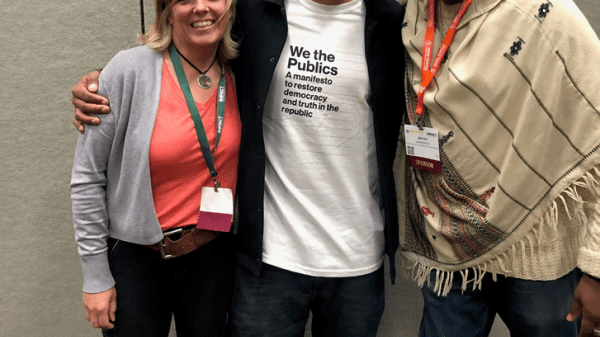 The Green Schools Conference & Expo (GSCE) is the only national event to bring together all the players involved in making green schools a reality: people who lead, operate, build and teach in U.S. schools. This year, it was held April 8-9 in St. Paul, Minnesota. The conference, which was hosted in partnership with IMPACT, a regional sustainability conference, offered two full days of programming including inspiring keynote speakers, informative breakout sessions, case studies, hands-on workshops and the chance to network with like-minded colleagues from around the country. 
One of the most rousing and inspirational speeches was by Emmanuel Pratt, co-founder and Executive Director of the Sweet Water Foundation. He shared personal testimony about the conflicted tale of two cities, his Chicago, and the unfortunate and discriminatory practice of redlining and how it negatively impacts Chicago. Pratt, who describes himself as a farmer, educator and father, explained that the Sweet Water Foundation practices Regenerative Neighborhood Development, a creative and regenerative social justice method, that creates safe and inspiring spaces and curates healthy, intergenerational communities that transform the ecology of once-blighted neighborhoods.
Sweet Water "solutionaries" utilize a blend of urban agriculture, art, and education to transform vacant spaces and abandoned buildings into economically and ecologically productive and sustainable community assets that produce engaged youth, skilled workers, art, locally-grown food, and affordable housing. Sweet Water Foundation's programs provide a vibrant environment for hands-on learning in a space that embodies the nexus between inspiration, education, and action. According to Pratt, "It is vital that young people understand how and why the city has evolved and how it may come to look in the future." 
The Sustainable Forestry Initiative (SFI) and Project Learning Tree (PLT) were proud to once again serve as both a promotional and silver level conference sponsor. We sponsored the 2019 School Sustainability Leadership Summit which included over 60 school sustainability leaders and summit partners. We were thrilled with the cohesiveness and synergy among all conference attendees and enthusiastically look forward to GSCE 2020!
By James Riley McGirt eePro K-12 Co-Moderator & SFI/PLT Manager, Service Learning & Community Engagement