Fixing Food Documentary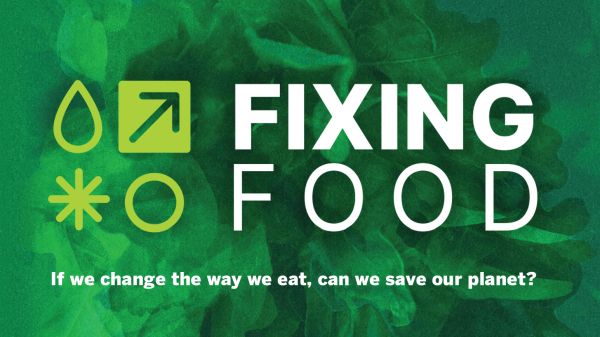 Growing and processing food, and packaging and bringing it to us—all use enormous amounts of energy, water, and chemicals, creating an overwhelming burden on our planet's resources.
Across the US, intrepid innovators are recognizing and exploring solutions to the problems of growing our nation's food while responding to climate change.  
FIXING FOOD tells stories of people who are working to lower our carbon footprint with new ways to gather and prepare the food we need. The series looks at five important areas where we can make changes—farming in the ocean and the air, finding new food sources, learning from Indigenous agriculture, and rescuing the food we already have.
Their stories challenge us all: If we change the way we eat, can we save our planet?
The 3 Cricketeers 9 mins
The story of a Minnesota farm family working on the frontier of urban agriculture, trying to do their part in the climate crisis by raising environmentally-friendly, protein-rich crickets and turning them into cookies, treats and tortillas.
Native Table 11:43 mins.
At their Minneapolis restaurant Chef Sean Sherman and business partner Dana Thomson are exploring their native cultural heritages by re-creating pre-Colonial menus, combining the past with the best in modern farming practices to create more sustainable and ethical food systems.
Farming the Sky 8:28 mins.
Traditional industrial scale agriculture might never be replaced, but architect Nona Yehia was sure it could be improved. She designed a new kind of greenhouse: a building that would pack a perfectly controlled growing environment into a space built up vertically on a sliver of urban real estate.
Harvesting the Sea 8 mins.
How can we keep Maine's lobster fishing communities employed and producing food for the rest of us when the oceans they depend on are warming so fast that fish stocks are declining? The answer, says the economist, Brianna Warner, is seaweed farming.
The Rescue Brigade 8:34 mins.
More than 38 million people in America are food insecure. When Leah Lizarondo learned that over 40% of America's surplus food is wasted every year, she founded a food rescue mission with a small army of volunteers to bring that food to the people who need it most.