STEM into Nature event series attracts children with an interest in technology and nature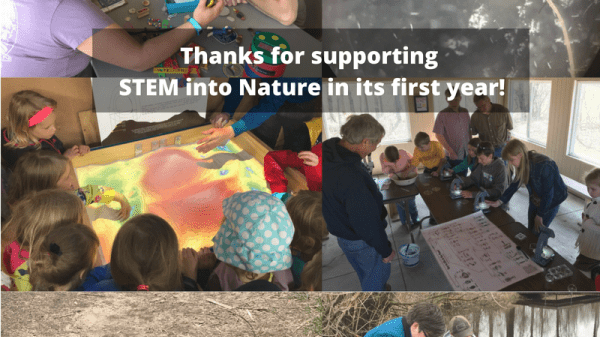 Educational and environmental organizations from the greater Milwaukee area partnered to amplify their work in watershed education and management through a three-day STEM into Nature series. 
Participants were invited to get hands-on with the drones, robots, underwater ROV's, augmented reality and GIS tools that are changing the game for conservation.
A few of the stations hosted in the three-day lineup included:
UWM-School of Freshwater Sciences looking at bathymetry in Riveredge's Farm Pond with aid of their underwater ROV, 
Reflo giving a hands-on look at how watersheds work through their brand new Augmented Reality Watershed Table, 
Milwaukee School of Engineering taking a closer look at how water is cleaned by nature in the Riveredge engineered wastewater wetland,
Ozaukee Washington Land Trust is changing the game in invasive species mapping and monitoring through their remote sensing/GIS,
As well as Riveredge Nature Center sharing the hidden life in the pond through a digital microscope investigation.
Check out the one-page impact summary (linked here) to learn more!