Get to Know the Association for the Advancement of Sustainability in Higher Education (AASHE)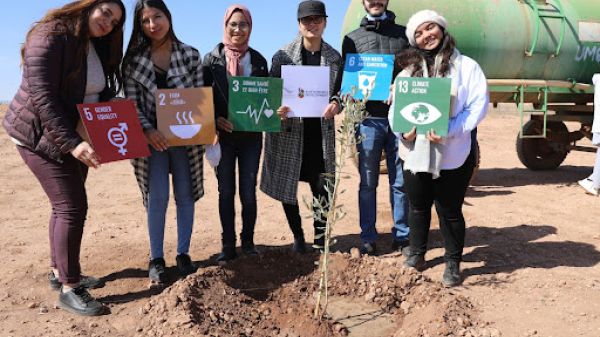 AASHE, an ee360+ partner, is the Association for the Advancement of Sustainability in Higher Education. We are a nonprofit organization that supports anyone at colleges and universities working on sustainability. We create resources and tools to help faculty, staff, and students teach, learn about, and implement sustainability initiatives.
At our core, AASHE is a convener. We began over 15 years ago when staff positions were being created on campuses to try and prioritize students learning about sustainability and ensuring the campus was operating efficiently (minimizing waste, water, etc.).
AASHE believes if students are educated about the sustainability challenges we face today and equipped with solutions for those problems, we'll be able to create a sustainable society. The students of today are our future leaders and decision-makers.
Three Ways to Engage with AASHE
1. Resources & Education
The Hub contains thousands of resources for faculty, staff, and students to learn more about sustainability and specific strategies for advancing solutions.
Though many of our resources are member-only, there's a good chance your institution is an AASHE member! Check out our member directory to find out if you're a member or reach out to membership@aashe.org for help in setting up your access.
Participate in an upcoming webinar:
Join our conference: 
AASHE's Global Conference on Sustainability in Higher Education registration is open. Please note that this year our conference is still virtual, but we've spread it out over three weeks; we'll be streaming live on October 18, 26, and November 3.
Interested in submitting a session? Check out Emerging Issues Call for Proposals.
2. STARS
AASHE works with more than 1,000 campuses throughout the world. Our STARS program engages institutions across 44 countries.
STARS helps campuses measure how well they're doing with integrating sustainability into the curriculum and within their operations. For example, in our Sustainable Campus Index, you can learn about the top performing colleges and universities in each STARS category, including air & climate, diversity & affordability, energy, and water, among others.
STARS has become a transformational tool to help campuses understand the breadth and depth of sustainability.
3. Communications










AASHE is an ee360+ Dissemination Partner. An ambitious multi-year initiative, the ee360+ Leadership and Training Collaborative connects, trains, and promotes innovative leaders dedicated to using the power of education to create a more just and sustainable future for everyone, everywhere. Led by the North American Association for Environmental Education (NAAEE), ee360+ is made possible through funding and support from U.S. EPA and twenty-seven partner organizations representing universities and nonprofits across the country, and five federal agencies. Through this partnership, ee360+ brings together more than five decades of expertise to grow, strengthen, and diversify the environmental education field. Visit www.ee360.org to learn more.