Exploration, Discovery and Science: Inviting Community Participation in Water Quality Monitoring through ee360's Community Fellowship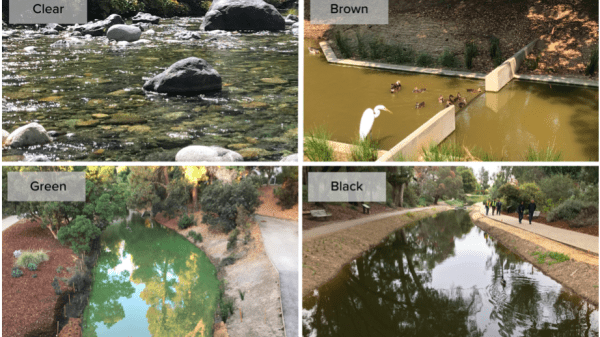 Do you have an idea for how to strengthen your community through environmental education? In this article, I am sharing a project that was made possible through NAAEE's ee360 Community EE Fellowship. Now through February 14, 2020, you can apply to join the ee360 Fellowship program to learn with a growing network of leaders and complete your own environmental education action project. Visit the North American Association for Environmental Education's website to apply at naaee.org/ee360fellow.
What color is the water in the Arboretum Waterway today? What wildlife do you see? These are some of the questions we have been asking visitors of the Arboretum at the University of California Davis through an online survey. You might be surprised at the variety of responses! The survey link is posted on signs at six locations along the Waterway. Their participation, through nearly 500 observations so far, makes them Community Scientists.
"Community Science and Citizen Science engage members of the public to collaborate with professional scientists to conduct research-based investigations, engage in monitoring activities, collect data and interpret results, and produce new knowledge used for natural resource management or basic research." This definition comes from UC Davis Center for Community and Citizen Science, which helps scientists and communities collaborate on science to address environmental problems as a part of civic life.
This is an invitation to the community to contribute to important data collection on the Waterway, which supports future research and informs ongoing management. Observations about the Waterway help us assess wildlife, water quality, algae growth, and litter at various locations over time. Survey responses by the community, alongside water samples and data collection by the Waterway Stewardship Learning by Leading interns, offer a foundational understanding of the Waterway's conditions throughout the year. This important data helps guide land and water management decisions.
Alongside the survey signs, we are sharing the trends we see in the survey data with the community so they can see how their observations contribute to the bigger picture. Each location has its own specific sign with data from that spot.
The next step: creating interactive data collection stations. The survey asks people to use their senses to make observations and record data. Our next idea is to create interactive stations with tools that visitors can use to make additional observations and learn at the same time. For example, we envision mounting a secchi disk with a hand crank that allows visitors to lower it into the water and record the depth at which it is no longer visible. This technique has been used for more than a century to record clarity or turbidity of water.  
By inviting a broad audience to participate in water quality monitoring, not just those who have a degree or formal education in science, we build more connections and educate more people, ultimately creating a stronger community around improving environmental and human health. The many layers of this project involve one-time visitors, daily observers, undergraduate students, trained volunteers, and university staff and faculty.
Do you organize or participate in community engaged water quality monitoring? How is your program similar or different? What discoveries or changes in management have occurred as a result of your monitoring?
If you are considering applying for the ee360 Fellowship, I cannot overstate the wealth of resources, inspiration and growth that experience offered me, both personally and professionally. You'll be glad you applied.
I welcome your comments below!
Nina Suzuki, UC Davis Arboretum and Public Garden
NAAEE ee360 Community EE Fellow 2019