Drones and Discovery: An interview with an #EnviroEdTechInnovator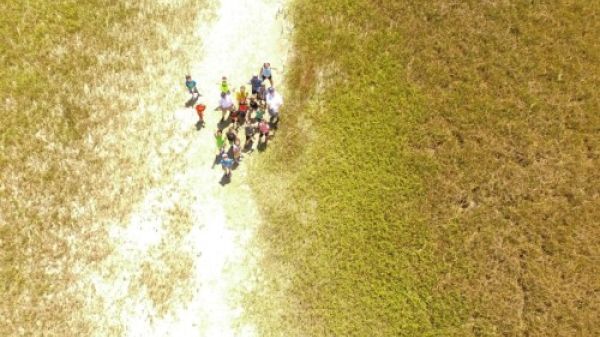 A field trip at GTM Research Reserve is not your average environmental science experience. Instead of dissolved oxygen tabs, strainers, and basins commonly used in many water-centered lessons at other non-formal learning centers, students work in small teams to investigate the sensitive areas of the reserve's salt marsh ecosystem via a suite of state-of-the-art technology. A drone shows areas otherwise unseen by foot down the trail. An underwater camera provides new perspectives on a life below the surface of the estuary. And, students conduct investigations on the water quality of the estuary using advanced probe ware and an iPad interface. To say the least, the experience is largely driven by the student's own curiosities, activated by their innate relationship to technology in the digital age, and facilitated by powerful science translation among the environmental educators.
So yes, when it comes to innovative use of technology in environmental education, the person nearest the top of my list is without a doubt, Kenneth Rainer. He has been the Director of Education at the GTM Research Reserve, located in Ponte Vedra, FL since early 2011. I worked with Kenneth during the first two years of starting his position and witnessed firsthand not only his passion for technology integration in EE, but also, his relentless aptitude for growing his own personal technological literacy- both of which can be seen throughout nearly all facets of the reserve's programming, inside and out.
Since my role at Riveredge Nature Center focuses on helping understand and share the role technology can play in learning and caring for our environment, I decided it was good practice to get a sense for what others are doing around the country on this similar topic. The result is a first in what I hope to be a series of posts featuring "tech and EE innovators." What better way to highlight and share a community of practice around, what I believe is one of the most pressing topics of our time. 
(Carly) To get started, can you share with us a little about the role that technology plays in your daily work-life?
(Kenneth) Technology use can be broken up into two categories- productivity and programming. Both play a significant role. We use it every day in the way we communicate, plan, schedule, and share. In our programming, we use it as pre, during, and post activities with students and teachers. It would be good to see that attitude taken to other EE programs.
(Carly) What are your thoughts on the next generation being more connected to technology than the natural world, and how does this play into your personal educational mission/goals?
(Kenneth) We are past the point of telling students to put down the devices. It's time to show them how to use it as a resource, as a powerful tool that it really is. Applying technology to programming helps people and students dive deeper into their experience. Being able to look up that organism and how that organism functions (i.e. is that supposed to exist here in the first place?) is a powerful thing. I think there needs to be a revolution in EE with the objective of digital literacy.
(Carly) Where would you say you get your ed tech inspiration?
(Kenneth) Actually, an old teacher- Amy Mayer (see FriEd Tech blog). She was my English teacher in high school. It was a culmination of her showing how tech should be integrated into the classroom and me going to graduate school and seeing how scientists were using it to conduct research.
(Carly) What are you most proud of related to tech and EE at GTM Reserve?
I'm proud of seeing how far it has come, so far, compared to where we were when we first started. ..What we've been able to do at GTM (ie. integration of Pasco (advanced water quality probe ware), drone technology, integrating Google Apps productivity tools) all increase our capacity and impact to new heights. Borrowing from other fields and breaking down silos that isolate EE. For example, we started using a booking system called You Can Book Me which was created by the salon industry. Being able to learn from other industries and catch up- I think that's what I'm proudest of.
(Carly) What is your personal favorite "ed tech tool" that you are using right now?
(Kenneth) Google. Because they are so good at keeping their tools up to date with the needs of their customers, instead of creating a tool and letting it die.
On the hardware side of things, I'm excited about hydroponics and trying to solve living shorelines issues with the help of schools. This school year, students are working on growing smooth cordgrass at their schools and building living shorelines. This fall, GTM brought a "mother plug" to schools and we will see where they are at at the end of the school year.
(Carly) Is there anything else you would like to share?
(Kenneth) Yes. On using digital probe ware in water quality programming- I've heard skepticism around the idea of using digital probe ware to sample water quality parameters among students. The criticism is on how the tool is used, not an issue with the tool itself. This has always been the issue of technology- how humans are using it, not what. In other words, the act of sticking a probe in the water is not the objective of the educator, instead, it's translating what the measurement actually means- how that metric fits into a larger system.
----------------------------------------------------------------------------------
Are you integrating similar technologies related to water-based education at your site?
What has been your experience? Or, what barriers are holding you back from integrating technology into your environmental education program?
---------------------------------------------------------------------------------
If you have questions for Kenneth, you can reach him at Kenneth.Rainer@floridadep.gov. 
Carly Hintz is the Educational Technology & Evaluation Specialist at Riveredge. You can reach her at cjhintz@riveredge.us.