Balancing Technology and Nature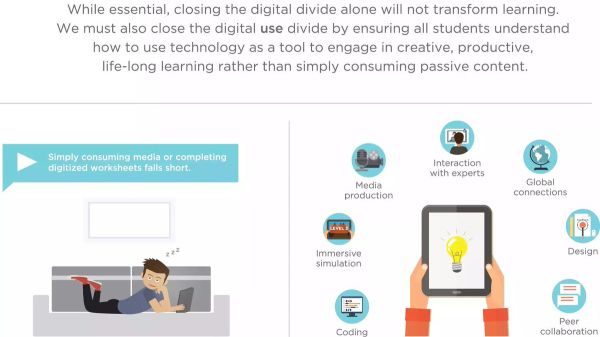 With our first post on Riveredge Nature Center's philosophy behind the balance between technology and nature shared with the world (see Curiosity as the App), it's time to give some practical examples for parents, grandparents, educators, or child-care providers to put into practice purposeful use of technology that aims to enhance children's connection to nature this summer.
While I'd like to jump right into the fun app-tivities (yes, that's what I am calling them), I want to be sure we are on the same page regarding the very important differentiation between how we consume technology today. Understanding this is crucial because it begins to answer the "why" of the importance of using technology as a catalyst to spending more time outside in nature, especially for young people. I mean, you've heard the depressing statistics about children's health and screentime, right? No matter what study you reference, the findings are clear- nationwide, children (and, adults for that matter) are spending less time outdoors and more time on screens than ever before, and as time goes on it's happening younger and younger.
But, fear not, techies-on-the-fence! While technology is not going extinct anytime in the near future, we are becoming wisen to the long-term effects of various forms of digital consumption. The two main approaches: active and passive use of technology.
Anne-Marie Fiore writes in her blog:
"Some practitioners refer to passive and active learning with technology as the new digital divide. There is a difference between students who use technology to create, design, build, explore, and collaborate and those who simply use technology to consume media."
("Digital Use Divide" graphic borrowed from the 2016 National Education Technology Plan published by the U.S. Department of Education).
So, to avoid more zombie-faced passive consumers we all know and maybe have experienced personally, active use of technology helps us more deeply explore the topics we wish to know more about. In other words, we are the drivers of our learning. With our own brains as guides, active use of technology like the app-tivities I am including here can help us become more curious, more creative, and perhaps even more connected to nature. With that, I do solemnly declare the following nature-based activities, with a fresh hint of summer.
App-Tivity #1: Try a DIY Lake Science Experiment!
Are summer showers keeping your kiddos inside? No problem. The app, created by the Lawrence Hall of Science, includes a dozen easy to use, hands-on activities to learn about freshwater ecosystems (indoor and out!). Each activity includes step-by-step instructions that have been tested by educators, kids, and families.
Our Riveredge Staff Picks: Dip, Dip Hooray (Free download, iOs compatible)
App-Tivity #2:  Set out sand traps and see who crawls in using iTrack Wildlife
Or, maybe it's a sunny day, and you want to know more about what animals visit your backyard while you aren't home or asleep. Read these short instructions, create the trap(s) using household items, and wait! While you're waiting, download iTrack Wildlife (lite version is free) or any of the several others available on the app store and make a prediction about what you'll find. (iOs and Google Play compatible).
App-Tivity #3: Play hide-and-seek in Space with Ready Jet Go!
Grab a blanket and head outside on a nice clear night to stargaze and explore all around the galaxy with this PBS app for young kids. Operate in hide-and-seek mode to challenge yourself to locate different constellations. If this app is too kid-like, "upgrade" to Go Sky Watch instead. It's the same idea, but for older kids and adults (Free, iOs compatible).
Let me know how it goes! You can reach me at cjhintz@riveredge.us or 262-375-2715.
Carly Hintz is the Educational Technology & Evaluation Specialist at Riveredge.