Aquaculture Week 2022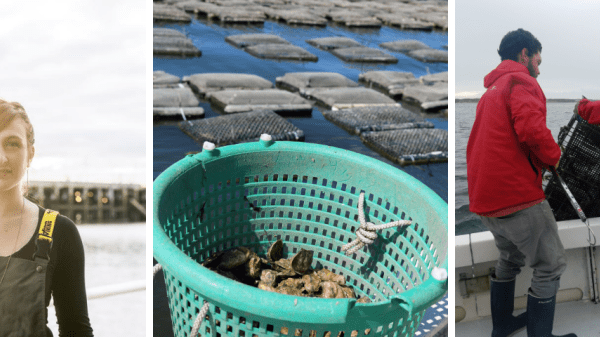 Marine aquaculture (or farmed seafood) is vital for supporting our nation's seafood production, year-round jobs, rebuilding protected species and habitats, and enhancing coastal resilience.

Aquaculture—the breeding, rearing, and harvesting of animals and plants in all types of water environments—is one of the most resource-efficient ways to produce protein.

—National Oceanic and Atmospheric Association
Join us in celebrating Aquaculture Week as we feature the tremendous dedication and innovation of our Aquaculture Literacy Grantees of 2021–2022. From September 26–30, we recognize the ways these organizations and individuals contribute to aquaculture elements such as supporting seafood production, professional learning and workforce development, and restoring protected species and habitats. 
Supporting Seafood Production
Hands-On Community Learning in a Distanced World

​​Maine educators and students are getting to know their local farmers through the eeBLUE Aquaculture Literacy mini-grants program. Read how science cafes, cooking classes, and education tours are helping one Maine community to better connect with each other.

Offshore Optics: Taking a Closer Look at Offshore Aquaculture

​​A unique partnership between academia, industry, and public education was formed to improve aquaculture literacy and confidence in a Florida community.
Investing in Professional Learning and Workforce Development
Restoring Protected Species and Habitats
Bringing Aquaculture Mainstream

​​Educators and seafood farmers in central California are collaborating on hands-on abalone aquaculture experiences. Through the eeBLUE aquaculture literacy program, Cultured Abalone Farm and the Santa Barbara Sea Center staff are bringing abalone aquaculture and its role in saving the endangered white abalone mainstream.

The Magic of Martha's Vineyard Oysters

​​With the help of a few happy clams, shellfish aquaculture and its role in economic resilience blooms.