Summer Institute for Nature & Place-based Early Childhood Education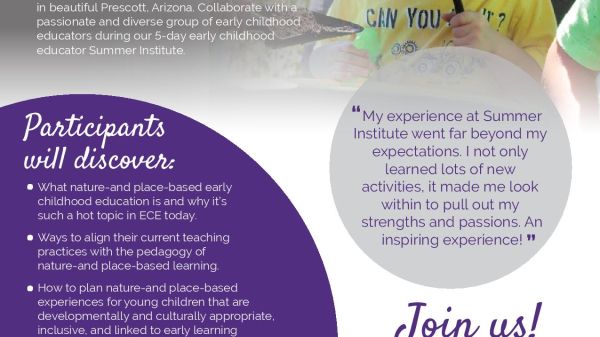 Summer Institute 2019
Join us this summer for 5 days of inspiring and hands-on professional development in beautiful Prescott, Arizona on the Prescott College campus*. Collaborate with a passionate and diverse group of ECE educators (birth-age 8) from all over the country, at the annual early childhood educator Nature & Place-Based Summer Institute.
The Summer Institute fee includes materials and resources, four nights of lodging on campus, and two to three meals a day. Enrollment is limited and a non-refundable fee of $100 is required to hold your place. As a part of the enrollment process, each participant will be asked to identify a nature- and place-based project they can develop during and after the Summer Institute with the assistance of a mentor.
This year's Summer Institute participants will discover:
What nature- and place-based early childhood education is and why
it's such a hot topic in ECE today.
Ways to align their current teaching practices with the pedagogy
of nature- and place-based learning.
How to plan nature- and place-based experiences for young children
that are developmentally and culturally appropriate, inclusive, and linked to
early learning standards.
Current advocacy efforts for increasing inclusive and equitable
access by all children to nature- and place-based learning.
Potential community resources and partnerships for increasing
inclusive and equitable access to natural environments for children and
families.
Participants receive:
Year-long project development support from a Summer Institute Mentor
Valuable resources and user-friendly materials to support integrating nature and place-based activities in your own program
Nature and Place-based Early Childhood Education Certificate 
Professional development hours
Past Participant Feedback:
"This Institute exceeded my expectations! The presenters, workshop material and community support has built a confidence and inspiration in me that I was craving so very much when I arrived. Thank you!"
"My experience at Summer Institute went far beyond my expectations. I not only learned lots of new activities, it made me look within to pull out my strengths and passions. An inspiring experience!"
To register online, please visit: www.prescott.edu/sifece. For questions and more information, please contact our Program Coordinator, Ellen Bashor, at npece@prescott.edu or 928-350-2235.
The Summer Institute is offered annually by the Prescott College Center for Nature and Place-based Early Childhood Education with the generous support of the George B. Storer Foundation.